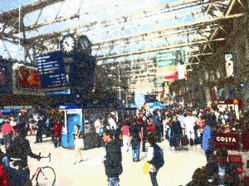 as customers demand more functionality and services to be switched online the technical complexities of serving them increase greatly
London (PRWEB UK) 26 April 2013
Nationwide Building Society was the latest UK financial institution to experience technical difficulties when its systems crashed, on Tuesday 23rd of April, leaving millions of customers unable to access mobile and online banking services; systems were up and working before the end of the day but in the meantime, according to the BBC, customers were complaining on social networking sites such as Twitter and Facebook.
Only last July Nationwide experienced another technical malfunction where 700,000 customers were double charged for payments made through their UK current accounts. However, neither of the Nationwide malfunctions could be considered the worst in recent history. In 2012 17 million RBS/Natwest customers were unable to access many of their accounts - some for as long as 3 weeks! (BBC news)
According to the BBC, during January 2013 alone, Lloyds TSB, Halifax, PayPal and Bats Global Market (US stock exchange operator) experienced technical malfunctions. Lloyds and Halifax customers reported problems accessing online banking, while Lloyds also faced problems with its Faster Payment System; PayPal double charged some customers; and 400,000 trades failed due to a technical glitch in Bats Global Markets systems.
One of the main reasons banks are believed to be experiencing technical hitches is the software banks have been using. UK banks were among the first to start using computers and through the years the software has been modified and new components have been added or removed (BBC). Furthermore, because of the legislation regarding banking licenses, when a merger occurs -and there have been several during the past years - it can take as long as 10 years to completely transfer their systems.
The result? The current banking system-software is composed by several components, which are written in multiple programming languages and have been developed by different teams in different parts of the world. According to Lev Lesokhin, (strategy chief of Cast, software analysis firm) "This means no single person, or even group of people, can ever fully understand the structure under the key business transactions in an enterprise. Testing alone is no longer a viable option to ensure dependable systems."
A spokesperson for compareandsave.com commented:
"Obviously technical faults are frustrating to both customers and the financial institutions that serve them. It's very easy to point the finger of blame, but as customers demand more functionality and services to be switched online the technical complexities of serving them increase greatly. What these issues really bring into stark relief is that we depend on quality online banking on a day to day basis and, despite minor teething problems, we are likely to rely on them increasing more in the future"
____________________
compareandsave.com is one of the UK's leading personal finance comparison websites. Based in Colchester, Essex, compareandsave.com has been helping UK consumers get a better deal on credit cards, saving, loans and more for over five years.