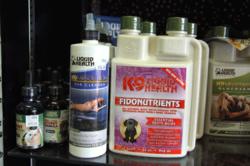 Izzy's Place will look at the breed of dog, along with their diet, and other factors to determine if they need supplements, and the best dog supplements for them.
Carmel, Indiana (PRWEB) April 30, 2013
As dogs have become more and more like family members, their health has become more of an interest to owners. This has led to a growing interest in pet supplements.
Local dog boutique store, Izzy's, on the corner of West Main Street and Guilford Road in Carmel, Indiana has now added a new section of supplements to become the leaders in educating owners on the proper supplements to keep dogs happy and tails wagging.
Izzy's Place now carries a wide assortment of health products for pets located in the "A-Paw-thecary" section, including daily dog supplements from top of the line brands like Azmira, Solid Gold, Eagle Holistic Select, and Precise Holistic Complete.
These products are all natural holistic pet care products, the best pet care possible. These are the supplements professional animal caretakers choose for their own pets for everything from pest infestations, stomach ailments, vitamin deficiency, arthritis, and more, now available to the local pet owner. Whatever is ailing the pet, odds are Izzy's Place has just the thing to bring them back to their tail wagging, and healthy selves.
Is there a particular supplement customers look for when they come in?
Glucosamine is a big one. Large dogs and small dogs who are overweight, often suffer from joint problems. This is very common in large dogs at about 2 to 3 years of age and up. They have problems going up and down stairs, and after awhile it can become more serious to where they have trouble moving at all. Glucosamine for dogs helps them regain the elasticity in their tendons, and flexibility in their joints that allows them to move without pain.
What supplements should be given to a dog?
The question that should be asked is 'Does my dog need supplements?'. The healthier the dog's diet is, the less supplemental support they will need. If the dog is given supplements when they are not needed, there could be health risks such as urinary problems and yeast in the ears.
How do I know if a dog needs supplements?
There is a great little guide book called 'Three Simple Steps to Healthy Pets' written by Lisa S. Newman, who founded Azmira Holistic Animal Care. A great resource for the best supplements for each breed of dog. Izzy's offers this book for sale and keeps a copy at the counter as a reference guide.
The conversation of pet supplements can be overwhelming. Izzy's Place will look at the breed of dog, along with their diet, and other factors to determine if they need supplements, and the best dog supplements for them.
Izzy's Place, A Dog Bakery is the place to go for the best dog treats as well, Stella and Chewys raw diet and all pet nutritional needs, including dog supplements.
"Izzy's Place," is also a location where fresh baked goods are made in house daily that dogs love. Yes, it is a dog bakery that makes gourmet dog treats. Fifty flavors total and twenty-one flavors always on hand. And no need to worry about allergies. Izzy's treats have absolutely no corn, wheat, or soy. They are delicious and nutritious.
Located at 816 West Main Street, Carmel, Indiana. Opened Monday through Friday, from 10:00 A.M. to 6:00 P.M., and on Saturday from 10:00 A.M. to 5:00 P.M.