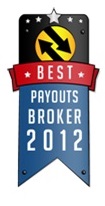 The team at MarketsWorld are proud to be recognized as the platform with the most lucrative payouts, our business model was designed to ensure that our customers benefit from the best returns in the binary options industry
Douglas, Isle of Man (PRWEB UK) 25 April 2013
MarketsWorld believes in two business philosophies, the first is to provide a binary options trading platform that offers an exemplary customer experience. The second is that our clients benefit from the best average payouts across the industry. The fact that this is all performed in the regulated environment of the Isle of Man, Great Britain, is testament that the foundations of MarketsWorld are solid and the offer is fair and legitimate.
This was recognised in January 2013 when MarketsWorld won the Binary Options award for 2012 as Best Payout Broker. The company is obviously proud to have won this award, but is now even more determined to provide the best customer experience.
Many bulletin boards are rife with which broker pays the most, however whilst the facts speak for themselves, MarketsWorld also focuses on withdrawals, ensuring that once a successful trade has been credited to a client's account then these can be then withdrawn in record time; an area where MarketsWorld once again leads the way which also cannot be overlooked.
MarketsWorld is focused on improving the scope for our clients and will be introducing 60 second trades and more assets in the near future.
All in all MarketsWorld is evolving but is keen to reassure clients that the core central strengths will not be weakened. The company still champions the core fundamentals of;

Best pay outs
Fastest withdrawal time
Best customer service
Client security
MarketsWorld are clearly pleased with how their business is developing. Bruce MacLean, MarketsWorld PR Manager says, "The team at MarketsWorld are proud to be recognized as the platform with the most lucrative payouts. Our business model was designed to ensure that our customers benefit from the best returns in the binary options industry, which are frequently 5-10% above our nearest competitors. This formal recognition of the MarketsWorld regulated platform providing Binary Options Traders the highest payout percentages in the industry is the most meaningful accolade since it effects the bottom line and pocket book of the trader and we are delighted to be recognized with this award." He goes on to say, "MarketsWorld is focused on further developing our offers, assets and customer experience and we are looking forward to what will be a very exciting 12 months."