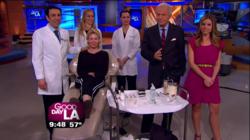 Los Angeles, California (PRWEB) April 25, 2013
According to an April 9, 2013 New York Magazine article, using adhesive tape to temporarily lift and tighten the skin has been a Hollywood secret for decades. This pedigree notwithstanding, the question remains whether taping of faces can actually effectively prevent wrinkles (Go to goo.gl/2cJkF).
As reported in the article, Frownies, the original facial tape, was introduced 100 years ago purportedly to treat the frown lines of the inventor's daughter. Frownies are still available a century later online and in drugstores. Devotees include Raquel Welch who included a reference to Frownies in her autobiography.
"Does facial taping work?" asks Simon Ourian, Medical Director of Epione Beverly Hills. "Facial taping may provide some temporary wrinkle relief but I don't think that it would work on a long-term basis."
A few years ago, according to the article, a competing product called Furlesse was introduced as a latex-free, hypoallergenic alternative. Furlesse patches are cut into different shapes for use on different parts of the face such as crow's feet, around the lips, and between the brows. It was the Furlesse product that the article's author chose to test on herself.
"I'm not surprised that the author experienced no benefit from using the patches," says Dr. Ourian. "I have to echo the sentiments of the doctor quoted in the article, taping doesn't relax the muscle that causes wrinkles or address the loss of collagen and elastin."
Dr. Ourian has been a pioneer in laser technology and non-invasive aesthetic procedures including Restylane, Juvéderm, Radiesse and Sculptra. These treatments are used for the correction or reversal of a variety of conditions such as acne, acne scars, skin discoloration, wrinkles, stretch marks, varicose veins, cellulite, and others. More information about facial taping to reverse wrinkles can be found on Epione's website.