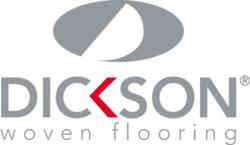 We're thrilled to be chosen as a partner by such an established worldwide brand as DICKSON
Florham Park, NJ (PRWEB) April 26, 2013
Summit International Flooring, one of the nation's premiere specialty flooring suppliers and consultants, is pleased to announce it has been named by DICKSON-CONSTANT as its exclusive USA partner for DICKSON Woven Vinyl Flooring.
DICKSON-CONSTANT (DICKSON) is a division of Glen Raven Mills, the world's leading producer of outdoor fabrics, and manufactures awnings, outdoor fabrics, and woven vinyl flooring under the brand names Sunbrella and DICKSON Woven Flooring serving 110 countries on five continents.
"We're thrilled to be chosen as a partner by such an established worldwide brand as DICKSON," said David Numark, owner of Summit International Flooring. "For us, this is an endorsement of the quality services and work we provide here in the United States, and we couldn't be more proud, honored and excited to begin this partnership."
Separating DICKSON from other manufacturers is DICKSON's FrayGuard, which ensures clean cuts for faster, easier installations and increases durability, and SoundGuard, which dampens ambient noise and significantly reduces impact noise. The high performance backing also adds to appearance retention in high traffic environments. Available in tiles and rolls, the product is water proof and stain proof. Additionally, 100% of the designs are suitable for both indoor and outdoor applications.
Numark has also announced that Deborah Seymour has joined the Summit team as Northwest Regional Manager and Product Manager - Woven Vinyl Flooring. Deborah has extensive knowledge of woven vinyl flooring, as her former company, Alison T. Seymour, originally brought the woven vinyl flooring category into the United States marketplace.
"Coupling Deborah's product knowledge and long-standing relationships with specifiers and dealers alike, combined with the unique characteristics that separate DICKSON from that of other competitors, allows customers the benefit of superior quality and superior service," added Numark.
Summit International Flooring is well known for importing unique, high quality, fashionable flooring products. In addition to DICKSON (France), Summit International Flooring distributes OBJECT CARPET (Germany), Van Besouw Carpets (Holland), and Best Wool Carpets (Holland), and their own brand of high-end rubber flooring products.
Notes Numark, "Business, especially on the high-end, has recovered to the point where we have just moved our NJ office to a larger facility to accommodate new employees. And, working with quality suppliers and quality customers, we are very enthusiastic about the future."
ABOUT SUMMIT INTERNATIONAL FLOORING
Summit International Flooring, headquartered in Florham Park, N.J., was founded in 2003, and is one of the nation's premiere independent flooring suppliers and consultants, providing the most unique and high quality of floor coverings – ranging in part, from CLASS "Leather" Rubber Tiles (faux leather look), to Van Besouw Carpets (Holland) and OBJECT CARPET (Germany). Serving top design firms, architects, and floor covering professionals who require top quality goods with innovative design and exceptional value, Summit is also the exclusive U.S. distributor of many specialty floor coverings. For more information, visit http://www.Summit-Flooring.com, e-mail info(at)summit-flooring(dot)com, or call 1-877-496-3566.