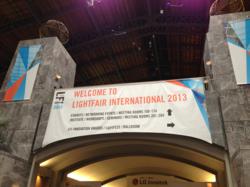 Leapfrog Lighting's Blog reports Lightfair International and on all the latest developments in LED lighting technology.
Philadelphia, PA (PRWEB) April 25, 2013
Today's Leapfrog Lighting blog report again covered Lightfair International, including full details of the happenings, innovations and seminars at the world's largest annual architectural and commercial lighting trade show and conference. Here are some highlights (visit the blog for a full report>>).
The exhibition floor remained crowded and the lineups at the door were no smaller than on opening day.
Significantly, they reported, this year's show displayed far more LED finished products and showcased less in the way of LED lighting components or test gear.
On the floor they also noted a big increase in museum track lighting because "the push is on due to the low heat and no UV/IR characteristics of LEDs, making them an ideal choice for galleries or museums—one of the key reasons for conversion." The Lighting Services Inc (LSI) museum track head is specifically designed for galleries and museums. Read more>>
With legislation and building codes focused on efficiency as well as a push for green initiatives, it no surprise that Building Automation Systems (BAS) are on the rise, and well represented at the show, they reported. BAS's help to "reduce energy cost as well as operation and maintenances cost, improve comfort and productivity of occupants, provide alarms to anticipate issues/complaints, and provide timely information to the facility management team."
In the blog report, they gave detailed highlights of four seminars attended, including:
· Luxurious Luminosity: Shedding Lighting on Hospitality Illumination, by Emlyn Altman
· Form Follows Function: How Changing Library Practices are echoed in Design Choices, by Ardra Paige Zinkon
· Integrating LEDs and Lighting Controls for Increased Energy and Cost Savings in Commercial Interiors, by Donald Millstein
· The Burden Museum: A Case Study of Specifying LEDs and Compatible Dimming, by Naomi Miller and Janet Lennox Moyer
To read full details, visit Leapfrog Lighting's Blog>>
Leapfrog Lighting also Tweet reported live at the show on their Twitter nest at>>
Leapfrog Lighting is an innovation leader in LED lamp manufacturing. The current Leapfrog Lighting product line includes MR16, PAR30, PAR38 and PAR20 lamps that provide industry-leading output power through high-efficiency LED source and driver electronics. The innovative lens design creates a pleasing, glare-free light suitable for use in all indoor and unexposed outdoor down-lighting applications. The lamps also deliver the high CRI and ultra-consistent color temperature control critical to multi-lamp applications in hotels, restaurants, schools, office buildings, museums, galleries, retail operations and other public spaces. With a life expectancy of 40,000 operating hours, these UL-registered lamps will provide more than 27 years of service at 4 hours per day.