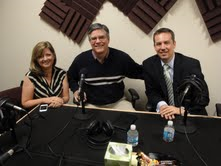 We are formally and informally looking for talent all the time.
(PRWEB) April 25, 2013
On April 24, 2013, co-hosts Stone Payton and Lee Kantor of BusinessRadioX®'s Learning Insights discussed talent management with Russ Simpson from Acuity Brands.
Acuity Brands, Inc. is a North American market leader and one of the world's leading providers of lighting solutions for both indoor and outdoor applications. With fiscal year 2012 net sales of over $1.9 billion, Acuity Brands employs approximately 6,000 associates and is headquartered in Atlanta, Georgia, with operations throughout North America, and in Europe and Asia.
Russ Simpson is the Director, Talent Management and Human Resources Shared Services with Acuity. As the leader of the HR Shared Services department, Simpson is responsible for talent sourcing, organization development, payroll, human resources information systems, and employee communication.
Talent management at Acuity is an on-going process. According to Simpson, "We are formally and informally looking for talent all the time." Simpson went on to say, "We transitioned to a technology company and we are always looking for engineers." He described the ideal candidate as someone who is results oriented, has a process mindset, understands lean manufacturing and knows how to drive the process forward.
Unique to Acuity is their Leadership Program. Simpson explained that they recruit candidates out of college and immerse them in a year-long program, rotating them through four different assignments - Sales, Product, Marketing and an Elective - then interview them for a specific role in the organization. Says Simpson, "This is a great transitional program that grows new talent into the company culture."
To learn more about Acuity Brand's approach to talent management, you can listen to this interview in its entirety at Learning Insights.
About Learning Insights Radio:
http://www.learninginsights.businessradiox.com
Learning Insights airs weekly on Wednesdays at 10am EST. Co-hosts Lee Kantor and Stone Payton interview learning professionals Improving Performance to Drive Business Results. Learning Insights is sponsored by TrainingPros.
About BusinessRadioX®:
BusinessRadioX® provides a turnkey solution for business owners who want to leverage the power of internet radio to meet their best prospects, establish credibility for their organization and heighten the placement of their brand in search engines rankings. With a professional venue and a proven formula, BusinessRadioX® helps hosts podcast their shows and create a regular stream of dynamic content to share with their prospects and feed the search engines every week. Programs are recorded and streamed live to the internet from our studios in the greater Atlanta area. For more information or to hear a live show, visit: http://www.businessradiox.com.