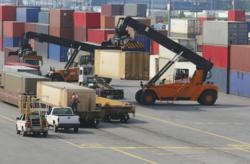 This latest development provides a timely solution for the growing number of companies that include railheads within their operations
Liverpool (PRWEB UK) 26 April 2013
OBS Logistics has extended its comprehensive CALIDUS suite of logistics software to include a new railhead module, CALIDUS Rail, which integrates the movement and handling of containers at the rail hub.
The system helps to track and manage the loading, placement and storage of containers at the railhead, providing integration with CALIDUS WMS Warehouse Management Software where the goods are bound for an on-site warehouse and CALIDUS TMS Transport Management Software where the container is to be onward transported by Road.
It handles bookings to and from the site, and orchestrates all of a container's movements between rail, road and their temporary storage locations. In-cab PDA's provide direct communication with the container movement truck driver in real-time, providing detailed work instructions, and capturing confirmation when containers are despatched to road vehicles, including electronic signature capture, removing the need for paperwork.
In common with other CALIDUS modules, CALIDUS Rail is developed in .NET technology with an Oracle database and is operated through RF based touch screen terminals across the railhead. Derek Cole OBS Logistics' Product R&D Director explains, 'this provides for a very user friendly and intuitive user operation which offers the robustness and resilience required for such business critical applications. As with all our software solutions, CALIDUS Rail can be deployed as a fully managed service from our own secure data centres.'
Dave Renshaw, OBS Logistics' CEO commented: 'we specialise in developing software solutions for land based logistics operations and this latest development provides a timely solution for the growing number of companies that include railheads within their operations'
About OBS Logistics
OBS Logistics specialises in creating warehouse management software and transport management software solutions for third party logistics providers and companies running complex logistics operations. OBS Logistics' software customers include Potter Group Logistics, Hanson, NFT, Wincanton, Barnvale Processing and Woodland Group.