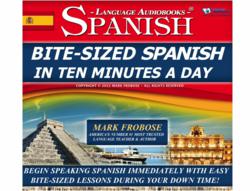 "Use all-audio language programs that allow you to practice languages while on the go."
Mark Frobose - Founder
Language Audiobooks Inc.
www.languageaudiobooks.com
Champaign, IL (PRWEB) April 26, 2013
"Your computer is the worst place in the world to learn a language because it prevents you from using your down time to practice languages," says Mark Frobose, founder of LanguageAudiobooks.com.
Mark should know. He's been writing and recording foreign language programs for over 32 years, and he's had a fair share of success doing it." He's a bestselling language program author, the media's most popular language expert, and the creator of an entire audio language program series for Macmillan Audio of New York where he worked as their language consultant for several years.
Here's Mark's advice to language learners:
1. Use an "all audio" language program that goes everywhere you go.
2. Learn to speak languages during your otherwise wasted down time.
3. Take advantage of traffic jams, red lights, and other waiting periods to practice speaking languages on your IPod or listening device.
4. Avoid computer-based language programs that limit your movement and shackle you to a set location while learning a new language. This will slow down your learning.
5. Select a program that is downloadable and that teaches you to speak a language in short and easy bite-sized segments while on the go. It's easier to learn languages inch-by-inch rather than yard-by-yard.
Mark's website at http://www.languageaudiobooks.com currently offers a free ebook and audio-language lessons in Spanish, French, Italian, Russian, Mandarin Chinese, and Portuguese.