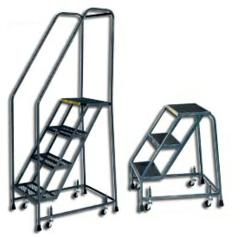 Ballymore Ladders Will sell even better with great content
Boston,MA (PRWEB) April 26, 2013
Ballymore is a leading rolling ladders manufacturer, and A Plus Warehouse is pleased to offer the Ballymore line to their customers. Over the years Ballymore has made changes to their line and it was high time for A Plus Warehouse to upgrade their Ballymore Ladders offering. According to Ed Stairman, "A product sells better with great content. We need to show the amazing new features Ballymore offers"
There are several concepts that Ballymore has added to their offering over the past several years. Here are just a few of them:
(1) Now offering steel ladders in Gray or Black at no extra charge
(2) Now offering Cal Osha upgrades for California Customers
(3) The number of tread options has increased for 2 to 4
(4) Most Ballymore ladders are now modular – parts can be replaced
(5) Ballymore has learned how to package and ship ladders with an industry leading low damage claims rate
(6) With the change in design and freight carrier partnerships, A Plus Warehouse offers a competitive value proposition for shipping.
Digging a bit deeper into these developments, consider development number one. Gray is certainly a popular color and historically all rolling ladder manufacturers offered only gray color. It has been said that black is the new gray , and many of our storage cabinets vendors are starting to offer black or charcoal color as an option. With their powder coat processing and lean manufacturing technology in place, Ballymore was able to offer the color black at no additional cost , and no additional lead time. A Plus Warehouse considers this an innovation in the warehouse ladders business.
Historically, A Plus Warehouse only displayed expanded metal treads for Ballymore ladders. A Plus Warehouse now displays 4 different tread types for the more popular rolling ladders. Grip strut is especially good for slippery applications while a stair with abrasive matting is optimal for dry applications. Intermediate applications are covered by expanded metal or perforated treads.
The industrial rolling ladders are a great example of enhanced design. Years ago , these ladders were only offered with 24 inch wide steps. They are now offered with 16 inch wide steps as well. A Plus Warehouse has also made it simple to order extra deep top steps by including that option on the product page.
A Plus Warehouse sells Ballymore ladders coast to coast and stands ready to help with any requirement. The newly designed warehouse ladder content will make the task even easier. Call 800-209-8798 with any questions or to order.