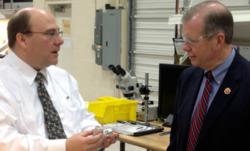 Dexter, MI (PRWEB) April 25, 2013
To tour the facility and learn about Protomatic's continued success even during these hard economic times, Congressman Tim Wahlberg and District Representative Charles Bogren paid the company a visit on March 12, 2013 during their tour of Southeast Michigan.
Over the past two years, Protomatic has continued to make large capital investments, such as the addition of new equipment, which includes a horizontal lathe purchased earlier this year. The company has also continued to increase the size of their staff. Both Walberg and Bogren were curious how this was possible given the tough economic conditions Detroit has been facing over the last few years.
Wahlberg and Bogren's visit included a tour of the facility, during which the two were able to see the many different parts Protomatic manufactures for their medical and aerospace customers. Wahlberg and Bogren further took advantage of the time with the Protomatic team by inquiring about what could be done to help other small manufacturers. Topics that were discussed include Federal and State tax codes and the need for politicians in Washington to make decisions that promote manufacturing investments.
The visit was a success overall. Both Wahlberg and Bogren were excited about the achievements this small Michigan-based company has been able to accomplish. They were also pleased to have input from Protomatic to reference when making future decisions that could affect small manufacturing companies.
Protomatic is headquartered in Dexter, Mich. The company is a 30,000 square foot CNC milling and turning facility. Protomatic specializes in design support, prototyping, production and assembly of custom parts and systems. They provide these parts and systems to businesses in numerous industries including, aerospace, automotive, electronic and optical OEMs, medical and military.
The company's website was created by Market Pipeline. With a focus on industrial companies, Market Pipeline specializes in web development and design along with web marketing. The company is based out of Portage, Mich. and employs a team of programmers, graphic designers and copywriters that collaborate to provide businesses with functional, user-friendly websites.