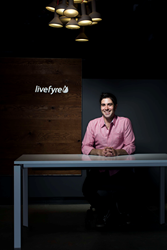 San Francisco, CA (PRWEB) April 25, 2013
Livefyre, the leading provider of real-time social software, has been named one of the best places to work in San Francisco by The San Francisco Business Times. Livefyre was one of a small handful of technology companies in the Bay Area that were honored with this designation, alongside AdRoll, DocuSign, Electronic Arts, EventBrite, Yammer and Zynga.
The San Francisco Business Times and San Jose Business Journal annually survey employees at hundreds of Bay Area companies to identify the most outstanding businesses in the region. The survey asks employees to rank their employer in areas such as teamwork, retention, co-workers, manager effectiveness, trust in senior leadership, benefits and overall job satisfaction. The best of the best are then honored in a listing of the 2013 Best Places to Work in the Bay Area.
"When I founded Livefyre, I wanted to create a company where people would be inspired by each other just as much as by the work they do everyday," said Jordan Kretchmer, founder and CEO of Livefyre. "That means giving people the opportunity to be themselves, and making sure that every single employee is empowered to make decisions that drive the business and our customers' businesses forward."
A complete list of the 125 winners and finalists can be found on the San Francisco Business Times website at: http://www.bizjournals.com/sanfrancisco/best-places-to-work-rankings-2013--.html?s=image_gallery&img_no=1 and a special print insert about the awards will appear in both the San Francisco Business Times and the San Jose Business Journal on Friday.
About Livefyre
Livefyre is bringing social to the rest of the web, helping brands build engaging real-time conversations and community around their owned content. The company's suite of real-time products are defining a new breed of web and mobile experiences that boost website traffic, increase user engagement and drive revenue. As the sixth largest network online, Livefyre is powering real-time social experiences for leading brands including American Idol, AOL, Bravo, CBS, Conde Nast, Dow Jones/WSJ, FOX, Newsweek/Daily Beast, Showtime, Sports Illustrated and The New York Times.
Founded in 2009, Livefyre was named one of the best places to work in San Francisco by the San Francisco Business Times. For more information, visit http://www.livefyre.com.