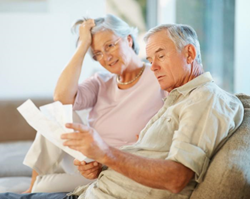 The increasing cost of annuities is an issue that is only going to become worse in the future
London, UK (PRWEB UK) 27 April 2013
Pryce Warner International Group – According to the Guardian, the Office for National Statistics (ONS) in the UK, showed that the cost of £5000 retirement income has risen by 29%.
Over the past three years, the amount of money a 65-year-old man would need to buy a £5000 annuity for life has risen from £118 000 to £152 800.
The ONS's pension trends report also showed that the median value of funds held in private pension funds is £53 000. This means that there is a huge gap between the amount people have saved and the amount they need to have even a small pension income.
One way in which individuals, especially expats, can cope with this, is to use a QROPS overseas pension.
David Retikin, Director of Operations at Pryce Warner International Group, commented: "The increasing cost of annuities is an issue that is only going to become worse in the future. As life expectancies rise, and interest rates stay low, pension companies will continue to offer very poor deals on annuities. Some individuals will be able to avoid this by using a QROPS pension, which offer better growth rates that traditional private or company pensions, are internationally portable and do not require you to buy an annuity. In short, QROPS allow your pension pot to grow more quickly, and when it comes time to use it for retirement income, you won't get burned on a low annuity rate."
Pryce Warner International Group have created a QROPS guide with further details.
According to the ONS's pension trends report, an inflation-linked retirement income of £25 000 would now require a pension fund of £763,900. In December 2009 a man aged 65 needed to have saved £590 200 to achieve this, while a woman of the same age needed to have saved £667 700.
The report stated: "Household retirement income can be sourced from any pension, financial or property savings that its occupants have built up during their lifetime. The adequacy of this saving for a household will depend on what level of expenditure they consider necessary for retirement. Different households will have different needs, which means that a standard or minimum requirement is hard to define."