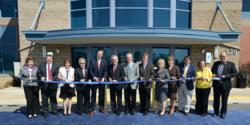 "Families will have access to the latest treatment options, research initiatives and targeted clinical studies right here in central Pennsylvania." — Dr. Glenn Steele, president and chief executive officer at Geisinger Health System
LEWISBURG, Pa. (PRWEB) April 26, 2013
Improving the lives of children with certain neurodevelopmental disorders depends greatly on the timing of a diagnosis, and the ways in which they are treated. The Autism and Developmental Medicine Center, which opened April 25, 2013, will shape the national model on how to approach both factors. The center will include clinical care, research and education, representing a unique partnership between Bucknell University and Geisinger Health System.
"The Autism and Developmental Medicine Center gives children and families who face the challenges of developmental disorders the opportunity to receive a diagnosis and treatment through an enhanced model of care," said Dr. Glenn Steele, president and chief executive officer at Geisinger Health System. "The result is that families will have access to the latest treatment options, research initiatives and targeted clinical studies right here in central Pennsylvania."
Disorders treated at the Lewisburg center will include autism spectrum disorders (ASDs), a collection of developmental disabilities categorized by impairments in communication, social interaction and repetitive, restrictive patterns of behavior, as well as other related neurodevelopmental disorders. The new facility is expected to significantly reduce the amount of time families in the region have to wait to receive care. And a heavy emphasis will be placed on personalized treatment, said Bucknell's Professor of Neuroscience and Psychology David Evans.
"We currently diagnose disorders such as autism based on symptoms — the behaviors themselves. But every child is unique in their strengths and challenges, and research studies show that some treatments work for some children, but not others," Evans said. "It can be frustrating for families when their child is given a treatment that doesn't seem to work. Our approach looks at the links between genes, the brain and behavior to help understand the causes, and plan the most effective treatment plan for each child and family as an individual unit."
"Symptoms of neurodevelopmental disorders are typically apparent by age 2, and can be diagnosed and treated at this early age," added David Ledbetter, executive vice president and chief scientific officer at Geisinger Health System. "By screening children at the optimal time, arriving at an accurate diagnosis, and implementing personalized treatment and medical options, patients and their families will face significantly improved outcomes."
This joint effort will bring together Geisinger's neurodevelopmental pediatric specialists, psychiatry/psychology, radiology, pediatric neurology and genomic medicine with Bucknell's academic programs in neurosciences, psychology, education, mathematics and computer sciences, providing Bucknell students and researchers the opportunity to work with Geisinger's clinicians and scientists in a collaborative and integrated manner.
"This initiative will present opportunities in healthcare studies rare for undergraduates anywhere in America, and will expand the opportunities Bucknell faculty have to impact understanding of a major national and family challenge," said John Bravman, president of Bucknell University. "It gives the University the potential to become a global destination for students and scholars interested in studying brain development, abnormal development associated with autism, and cancers affecting the brain and nervous system."
The facility will also house a state-of-the-art neuroimaging center which will be used, not just for research purposes, but also to help monitor the effectiveness of treatment.
"Neuroimaging tools, such as Magnetic Resonance Imaging (MRI), allow us to make direct observations of brain structure and function. These are useful diagnostic tools. But our plan is to use these tools to check on progress during treatment," Evans said. "If we see improvements in behavior, increased social and language skills, for example, we should be able to see those changes in the way the brain is functioning, and that will be objective evidence that what our clinicians are doing has a profound impact on our brains."
The Geisinger-Bucknell Autism and Developmental Medicine Center operates under the larger auspices of Geisinger's Autism and Developmental Medicine Institute, a system-wide initiative of Geisinger's Department of Research.
About Bucknell University
Founded in 1846 and located along the banks of the Susquehanna River in historic Lewisburg, Pa., Bucknell University is the largest and one of the most highly ranked liberal arts universities in the country. Students can choose from more than 110 majors and minors in the arts, engineering, humanities, management, and social and natural sciences, as well as extensive global study, service-learning and research opportunities. Bucknell's 3,500 undergraduate and 100 graduate students from across the world enjoy a low 10-to-1 student-faculty ratio and 150 students clubs and organizations plus 27 Division 1 athletic teams.
About Geisinger Health System
Geisinger Health System is an integrated health services organization widely recognized for its innovative use of the electronic health record, and the development of innovative care models such as ProvenHealth Navigator® and ProvenCare®. As the nation's largest rural health services organization, Geisinger serves more than 2.6 million residents throughout 44 counties in central and northeastern Pennsylvania. The physician-led system comprises more than 20,000 employees, including a 1,000-member multi-specialty group practice, six hospital campuses, two research centers and the 400,000-member Geisinger Health Plan, all of which leverage an estimated $5.5 billion positive impact on the Pennsylvania economy. The health system and the health plan have repeatedly garnered national accolades for integration, quality and service. In addition to fulfilling its patient care mission, Geisinger has a long-standing commitment to medical education, research and community service.
###