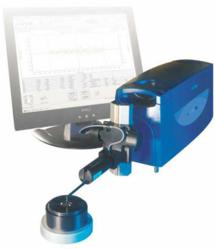 (PRWEB) April 30, 2013
Protomatic added a "Tally Surf" unit to help measure complex internal and external profiles non-destructively for critical medical and aerospace applications. Until now, measuring texture, form and contour simultaneously on the inside of complex surfaces was next to impossible without cutting a sample part in half and inspecting with an optical comparator.
The newly acquired Taylor-Hobson Form Talysurf Intra may look like a typical profilometer, but that similarity is only on the surface. This equipment will verify the contour and surface finish of parts with extreme precision, no matter how geometrically complex or texture sensitive. A complete set of analytical functions can be provided to suit the exact nature of the application. Features such as 3D-contour, conic and aspheric form analysis, dual profile and Gothic Arch analysis are just some of the more popular tools available.
The "Tally Surf" has measuring capabilities that go far beyond what is possible with Coordinate Measurement Machines (CMM), Vision system and Optical Comparators. Part surfaces with even the most subtle finishing differences will be accurately measured.
The real accomplishments take place using an inductive pickup probe feeding advanced software. By precisely measuring the actual part to the theoretical or programmed machine tool paths, machining accuracy can be defined by assessing form error with a best-fit analysis. Accuracy of the parts manufactured can be recognized by describing the microscopic variations to the actual request.
All parts, regardless of manufacturer, have a tolerance range for the machinist to work within. These ranges get smaller each day, it seems.
"Our customers are a specialized group and very demanding about this high accuracy – rightfully so, due to the applications," said Protomatic Vice President, Doug Wetzel. "The parts we make are usually Mission Critical, meaning that we must deliver parts that function properly on the first try. Here at Protomatic, we call this 'Life-Saving Precision.'"
Protomatic strives to deliver the leading edge support to its customers, who are always motivated to push the envelope of machining precision and technology.
Protomatic resides in a 30,000 square foot facility that can be found at 2125 Bishop Circle West in Dexter, Mich. The company's specialties include prototype machining and custom short-run precision CNC milling and turning. In addition to those services, Protomatic will customize, produce and assemble parts and systems for numerous industries and jobs. Industries served include aerospace, automotive, medical, military and several other markets.