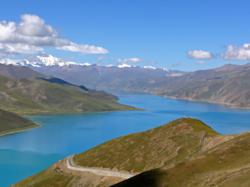 In 7 days tour of Tibet, what shall my travel budget be? Come and join local travel agency's budget tour program in 2013.
(PRWEB) April 26, 2013
New and improved budget Tibet tours by Tibet Ctrip Travel Service-TCTS (http://www.tibetctrip.com) are allowing travelers to minimize travel costs while avoiding the hassles of large group tours. TCTS is one local Tibet travel agency based in Lhasa since 1999. On TCTS's new Tibet Landscape and Cultural Discovery Tour, travelers will have opportunities to visit world-famous Tibetan cultural and historical sites in addition to seeing some of Tibet's stunning mountain landscapes. TCTS organizes groups of 2-10 people by matching small travel groups thereby cutting per person travel costs and preserving the comfort and flexibility of a private tour.
Day 1: Arrive in Lhasa. Travel group's native Tibetan guide will meet them at the airport and accompany them on the airport shuttle bus to Lhasa. After checking into their hotel, travelers are advised to take it easy while they acclimatize to the altitude. It's best to drink lots of water and keep walking light.
Day 2: Sightseeing in Lhasa. On the first full day of sightseeing travelers will visit Potala Palace, former home of the present and past Dalai Lama. This is, indisputably, one of the top must-see Tibet attractions. After Potala Palace it's a short walk to Jokhang Temple, one of the most revered sites among Tibetan Buddhists. Pilgrims from all corners of Tibet can be seen praying and circumambulating the perimeter of the temple.
Day 3: Biking tour of Lhasa. Today is an exciting day. Travelers begin biking in the morning; they will see hustling and bustling streets filled with pilgrims spinning prayer wheels and locals going about their business. Stops will be made at the Tibet Museum and Norbulinka, summer palace of the Dalai Lama. After lunch, the biking tour heads for Sera Monastery to watch the monks' debate Tibetan Buddhist scriptures. From here, it's an easy ride back to Barkhor Bazaar to explore its winding pathways and pick up some souvenirs.
Day 4: See Tibetan Landscapes. No tour of Tibet is complete without seeing its natural beauty. Travelers will make a day trip to Lake Namtso and have the option to visit Yangpachen Geothermal Spring. Lake Namtso shines turquoise on clear days, its islands and surrounding cave hermitages have drawn pilgrims for centuries. Travelers will not only see breath-taking landscapes at Lake Namtso but also on the drive to and from; the wide open expanses have a mountainous backdrop and are dotted with tents of local nomads.
Day 5-6: Visit Gyantse and Shigatse. More stunning landscapes are on order for today. On the way to Gyantse travelers will stop at Lake Yamdrok. After lunch in Gyantse, it will be time to learn about Tibetan Buddhism at Pelkhor Monastery and see the beautiful paintings and sculptures of Kumbum Pagoda. Before heading back to Lhasa, travelers will visit Tashilhunpo Monastery and have time to explore Shigatse's Tibetan market.
Day 7: Depart Lhasa. There will be a bit of free time to explore and take last minute pictures before the group's native Tibetan guide accompanies them to the airport shuttle stop. There are several flights to major Chinese cities daily and flights to Kathmandu at least 3 times a week.
Over this 7-day tour of Tibet, travelers will learn about Tibetan culture sightseeing in Lhasa, Shigatse, and Gyantse while taking in mountain scenery as they visit Lake Yamdrok, Lake Namtso, and Yangpachen Geothermal Spring. TCTS organizes budget tours differently than other travel agencies; they prefer to organize small groups instead of packing travelers in with 20-30 other people. This helps lower the cost per person while giving travelers the most authentic Tibet travel experience possible. Departure dates are first come first serve; travelers are advised to book soon.
Devin Moore provided this news release above on behalf of local Tibet tour operator TCTS (tibetctrip.com). Devin is a travel writer and independent economic analyst based in Springfield, Missouri USA. His economic research is currently focused on airfare pricing. Devin Moore works to spread awareness of Tibet and its people through publishing Tibet travel information.