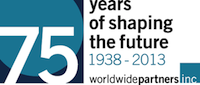 Denver, Colorado USA (PRWEB) April 26, 2013
The world's largest and oldest independent agency network is celebrating its 75th year in business. Worldwide Partners was founded in 1938 as the American Advertising Network among five partner agencies in the Western United States as a means for owner-operated agencies to share best practices, business intelligence and joint clients. Founding partner Mithoff Burton in El Paso, Texas, (then Mithoff & White) is still an active part of the network.
Since its formation in 1938, Worldwide Partners has grown to include 85 partner agencies in 54 countries with $3.4 billion in billings to become the world's largest network of independent agencies as well as the 9th largest full-service agency network, public or private. The first international agency came on board in 1951 in Canada, the network changed its name to Affiliated Advertising Agencies International, Inc. (3AI) in 1990 and ultimately became Worldwide Partners, Inc., in 1996 to signify the network's global presence.
Worldwide Partners has established many firsts along the way. For instance, most recently, the network was the first ad network of any kind to hold a marketing summit in China in 2006 to help educate Chinese business leaders on how to expand internationally. Also, Worldwide Partners was the first network to conduct an interactive conference in conjunction with South by Southwest (SXSW), which is the world's largest interactive trade show, in 2008. "Worldwide Partners is a unique collaboration among the best independent agencies in the world. Our clients benefit from best-in-class capabilities and unmatched local insight and understanding. The entrepreneurial orientation of our partners creates diversity of thinking around the very newest ideas to help our clients communicate. If it's happening in our industry, a partner agency is likely to be in on the
ground floor," states network Chairman, Jamie Rice of Carton Donofrio, Baltimore, Maryland.
Additionally, over just the past five years alone, Worldwide Partners has help generate over $150 million in income for its agency partners in joint, international business, servicing clients such as Wal-Mart/Central America, 3M, Novartis, Mini Cooper, Avon, Santander Bank, and Guardian Inglass – to name a few. Says Worldwide Partners President/CEO Al Moffatt, "We dedicate ourselves to helping independent agencies grow their agencies organically and through new business. We simply give independent, owner-operated agencies more horsepower, outreach and resources. That's why we've been around for 75 years and why we're looking forward to a bright future by helping owner-operated agencies stay one step ahead in order to help them lead their clients."
In recognition of its 75th Anniversary, Worldwide Partners will also be instituting its first Hall of Fame at the World Meeting in Zurich, Switzerland, May 4-8. The Hall of Fame recognizes those individuals that have played a pivotal role in helping establishing Worldwide Partners as the world's largest and most successful independent agency network. The 2013 inductees are: Jon Bond, co-founder of former Worldwide Partners agency kirshenbaum bond senecal + partners (kbs+p) in New York; David Martin (posthumous) founder of The Martin Agency, Richmond, Virginia; Rick Milenthal, Executive Chairman and Co-Founder of Engauge, Columbus, Ohio; Patricia Fiske, former president of Worldwide Partners; Ingrid Wächter–Lauppe, CEO of Wächter & Wächter Worldwide Partners in Munich, Germany; and Bill Burton, Chairman/CEO of Mithoff Burton Partners, El Paso, Texas.
Former Worldwide Partners President, Patricia Fiske, who was president from 1986-2004, said, "At the event of its 75th anniversary, being named to Worldwide Partners first Hall of Fame is certainly a personal honor. And it is a thrilling tribute to the fact that we successfully established the concept that owner-operated agencies excel in delivering culturally appropriate and highly effective advertising and marketing communications for global clients." Adds Hall of Fame inductee Rick Milenthal, currently Executive Chairman with partner-agency Engauge, "I have been blessed to be a part of this network for 30 years. Without the insights, the friendship, the support and the collaboration of Worldwide Partners, we never could have built Engauge into the leading agency it is today." And Jon Bond adds, "I respect anyone who has started a successful agency, so to be honored by an organization comprised of so many agency owners is a true privilege, and a great honor."
Worldwide Partners has established a 75th Anniversary web presence to showcase historical creative, the Hall of Fame, predictions that could affect the ad business in the next 75 years and memorabilia:
https://www.worldwidepartners.com/75/home
About Worldwide Partners:
The partner agencies own Worldwide Partners as equal shareholders, which makes the network unique in the world of marketing and advertising. Worldwide Partners provides a centralized hub of geographic outreach, tools, resources, industry expertise, communications disciplines, products, services, connections and agency-to-agency collaboration necessary for partner agencies to service clients locally, regionally and internationally. The network also acts as an international consultancy to help partner agencies successfully compete and to help partner agencies build their own business through shared intelligence, outreach and supplemental resources.
Noteworthy partner agencies include Butler Shine Stern and Partners, San Francisco Bay Area; R&R Partners, Las Vegas; Barkley, Kansas City, Missouri; Engauge, Columbus, Ohio; WE Marketing Group, Shanghai, China; The Group, Sao Paulo, Brazil; and Juice Pharma, New York, NY.