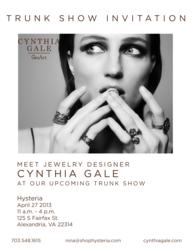 Cynthia Gale's body of work exemplifies a high-end but affordable and approachable collection of hand-crafted jewelry
Alexandria, VA (PRWEB) April 26, 2013
Hysteria, one of Old Town Alexandria's Boutique District favorite locales, is proud to feature Cynthia Gale, the designer herself in person and her amazing jewelry at the store from 11 am to 4 pm, this Saturday, April 27th.
"Hysteria seeks out unique pieces to feature in order to meet the discriminating tastes of our very stylish clientele" says Suzanne Runyon, Co-Owner of Hysteria, "and for certain, Cynthia Gale's body of work exemplifies a high-end but affordable and approachable collection of hand-crafted jewelry that very much fits the profile of quality and artistry that we look for in our boutique."
Cynthia Gale has created a significant body of work across the country and in the Washington area for museums and other cultural centers. Tomorrow, shoppers in Old Town Alexandria can enjoy the experience of learning about Cynthia's unique approach and the great story of her history directly from the designer herself, while also finding fun clothing and accessories that could be paired with her jewelry.
Says Cynthia Gale "in my travels around the world, I have had been blessed with the opportunity to explore other cultures and lifestyles; observing various belief systems which have influenced my love for meditative and inspirational jewelry design, and I am really looking forward to sharing my collection in Old Town Alexandria this weekend at Hysteria." Nina Doherty, who shares co-ownership of Hysteria with Suzanne, added "when Cynthia and I connected through mutual friends – we realized right away that we had a great match-up for her talented artistry in our fun boutique venue [Hysteria]. Suzanne and I are so excited that she will be in our store this Saturday to meet our clients."
About Hysteria: Hysteria opened its doors in 1999 in Old Town Alexandria and has since been one of the mainstays of Alexandria's exciting Boutique District. Hysteria features a gorgeous array of fashion forward women's clothing and accessories to meet the needs of the Washington, DC area's most stylish women. http://www.shophysteria.com
About Cynthia Gale: Cynthia Gale's philosophy is simple: to create exquisite, high quality sterling silver jewelry inspired by art and the world around us. Designer Cynthia Gale specializes in creating modern, urban eclectic, art inspired, fine craft sterling silver jewelry. Her collections are designed in her mid-town Manhattan studio and produced in Indonesia by talented artisans. http://www.cynthiagale.com