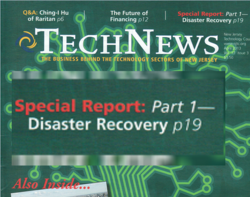 Business Continuity looks at your business holistically, while Disaster Recovery looks at the technology infrastructure.
Hamilton, NJ (PRWEB) April 30, 2013
In the wake of Hurricane Sandy, many NJ businesses faced, and continue to deal with, tough challenges. Besides the ongoing recovery efforts, businesses in the area have to ask the question, "Can it happen again?" - and more importantly, "If it does happen again, will we be prepared?"
In an effort to help businesses in the region, Pivot Point Security has partnered with the New Jersey Technology Council to spread the word about the importance of Disaster Recovery and Business Continuity. "DRBCP is something everyone knows they need, but so many places 'gamble' that disaster won't find them. It's natural to think that with the time and resources needed to address the issues, we can always 'put it off' - until we're caught unprepared," says John Verry, Security Sherpa at Pivot Point Security. "At Pivot Point we want to spread the gospel of DRBCP - and convince businesses that no matter their size and the extent of their resources, DRBCP is within reach."
The Special Report "Disaster Recovery & Business Continuity - Perfect Together", published in the April edition of Tech News, is an attempt to help business leaders understand and come to terms with DRBCP. In it, Verry explains the difference between Business Continuity and Disaster Recovery. "They're not the same," says Verry. "A business continuity programs examines how you operate, identifies the most critical business processes you need to stay in business, and defines how you will keep those processes running if a disaster occurs." On the other hand Verry says, "A disaster recovery program focuses more precisely on the information technology and communications assets your organization uses, and how to keep them operational following a disruptive incident."
"Simply put," Verry says, "BC looks at your business holistically, while DR looks at the technology infrastructure."
"The good news is that there is a lot of guidance available to businesses of all sizes. Companies don't need to go it alone. We're committed to helping businesses be ready," says Verry. The article contains several helpful tables outlining DRBCP resources, from ISO and FFIEC standards to professional organizations.
This first article focuses on building a Business Continuity Management System (BCMS). "Think of this as the administrative framework that links all the various BC and DR activities together into a cohesive program," says John Verry. He counsels businesses to focus their initial discovery on the following activities: Business Impact Analysis (BIA), Risk Analysis (RA) and Strategy Definition. "Once you've completed these important discovery activities, you'll be ready to prepare a process-oriented plan to address a disaster situation using the four R's - Recognize, Respond, Recover and Restore."
The May issue of TechNews will feature Part 2 of this Special Report. The New Jersey Technology Council hopes that companies will review this information and take advantage of this opportunity to be better prepared. And Pivot Point Security will eb there to help!
For more information about this Pivot Point Security practice area and related service offerings, please call 1-888-748-6876 or visit http://www.pivotpointsecurity.com/.
About Pivot Point Security
Pivot Point Security delivers maximum levels of objective information security expertise to its diverse client base, spanning market sectors including Nonprofits, Pharmaceuticals, Financials, Telecommunications, and Government. Our policy of not selling product and our absolute focus on our core practice areas ensures the highest possible levels of competence and independence.
From family-run businesses to global enterprises, Pivot Point Security has the right combination of Information Security/Compliance domain expertise, technology industry knowledge and experience, and organizational character to simplify the process of defining and executing on the best course of action -- so you can know you're secure and prove you're compliant.
###