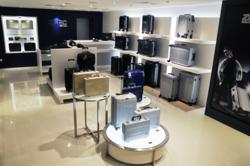 Piscataway, NJ (PRWEB) April 26, 2013
True to its heritage, the new boutique represents a clean and minimalist interior. Modern accents of Zero Halliburton's signature blue and burnished aluminum are featured on the newly designed fixtures. The result is an experience that reflects Zero Halliburton's focus on strength and durability.
In the boutique, a new collection of aluminum cases will be unveiled. The ZR Geo Collection, which is available in Black and Silver, represents the heritage of Zero Halliburton with the iconic double rib design along. Built to last with the unyielding strength of aluminum, the ZR Geo collection is a must have for today's global traveler.