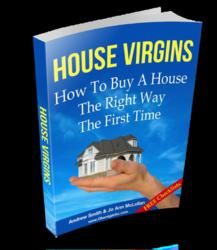 I give full credit to your training.
San Francisco, CA (PRWEB) April 25, 2013
Aspiring authors dream of writing a book and having it become a bestseller, but the majority do not accomplish either feat. Andrew Smith and Jo-Ann McLellan, authors of House Virgins, How to Buy Your First Home the Right Way, scored a bestseller with their book in its first week of release on Amazon.com. The authors wrote their book in the Bestseller in a Weekend® workshop, which guides authors through the writing, publishing, and marketing process of writing a book in three days.
House Virgins was released on April 16, 2013 and currently ranks number one in two Amazon.com Kindle categories: Practical Guides under the Nonfiction, Professional and Technical, and Law categories; and Buying and Selling Homes under the Business and Investing and Real Estate categories.
The success of the non-fiction book validates the fact that first-time homebuyers are seeking a resource to guide them through the process of buying a home and investing in real estate. House Virgins defines the steps buyers should take in order to make the right choice in their home-buying process, while avoiding the seven most common mistakes people make when buying their first home.
Alicia Dunams founded Bestseller in a Weekend to help non-fiction authors identify their target audience and niche and guide them through the process of writing, publishing, and marketing their books. Her three-day workshop is available online at http://www.BestsellerinaWeekend.com.
When notified of her Amazon #1 bestseller status, Jo Ann McLellan exclaimed, "Thank you Alicia Dunams! You found out before I did! I give full credit to your training."
Author Andrew Smith is an award-winning realtor licensed with Royal LePage Kelowna who works with first-time buyers throughout the USA and Canada. Co-author Jo Ann McLellan specializes in research, management and the latest real estate computer technology. Further information about them can be found at http://www.OkanaganBC.com. Their debut book, House Virgins, can be purchased at http://www.Amazon.com.
####
Alicia Dunams is the founder of Bestseller in a Weekend, an intense three-day book writing and publishing workshop. She is also an expert who teaches entrepreneurs and business owners the keys to successfully writing and promoting a book in order to boost their business. Alicia Dunams can be contacted at http://www.AliciaDunams.com.