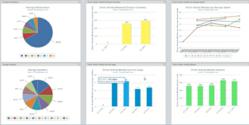 Data is power. Being able to generate and understand that data at a glance gives our users powerful capabilities to improve not only their own GPS service provider businesses, but also the businesses of their clients
Naples, Fl (PRWEB) April 26, 2013
Position Logic goes visual in its latest GPS tracking platform release, which includes a powerful new graphical reporting framework designed to make end users more efficient and give service providers more power.
The new GPS tracking platform technology features report-generation wizards and templates that let users quickly generate reports that are both fast and graphical, allowing them to understand important data at a glance. But although the reports are generated from templates, the process allows users to customize their own reports – functionality previously unavailable. Furthermore, users can choose to view each new report in whatever way makes the most sense to them, whether that be as a pie chart, a bar graph, a line graph, or even as a traditional data table.
To make the system even more powerful, users will also have the option of adding on new functionality that will allow them to search their saved reports and add them into one convenient dashboard, letting users see all their important data system-wide at once.
According to Position Logic's Chief Technical Officer Hong Long, the power and flexibility offered by the new framework are unparalleled in the industry. "This allows users to put information into their own hands in whatever way is most efficient and useful for themselves," said Long. "Data is power. Being able to generate and understand that data at a glance gives our users powerful capabilities to improve not only their own GPS service provider businesses, but also the businesses of their clients."
The new capabilities are being rolled out in phases, and all existing clients should have it by the second week of May. Prospective clients may schedule a demo of the GPS tracking platform to see the new graphical capabilities in action.
About Position Logic
Position Logic, LLC, an Inc. 500 company, is a leading B2B location-based services provider with offices in Florida, Illinois and the Dominican Republic and clients in over 50 countries spread over the continents of North America, South America, Europe, and Africa and in the Middle East region.
For more information about Position Logic, please contact our Sales Team by phone at 866-676-2372 (Toll-Free) or 239-465-0587 (US/International), 801.665.0587 (fax) or email at sales(at)positionlogic(dot)com. You can also visit the Position Logic website at http://www.positionlogic.com