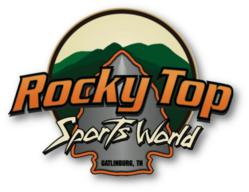 Situated on 80-acres, the state-of-the-art indoor/outdoor sports campus is fast becoming the most talked about new tournament destination in the Southeast.
Gatlinburg, Tennessee (PRWEB) April 26, 2013
Rocky Top Sports World, the country's newest sports tournament destination facility, has officially started site work to prepare for a best-in-class indoor/outdoor sports complex. The 80-acre facility will feature seven outdoor turf fields and a total of ten hardwood basketball courts, six of which will be housed in a new state-of–the-art building.
Construction is scheduled to take just over a year, beginning with the conversion of four existing full-sized fields to state-of-the-art synthetic turf, continuing with the addition of three new synthetic turf fields, and culminating with the construction of an indoor facility with six courts, a climbing wall, a full-service indoor/outdoor café, team rooms, and more. The process will also include additional parking and traffic improvements. Opening day will be in May 2014.
The City of Gatlinburg and Sevier County joined together to fund the $20 million complex, recognizing that Rocky Top Sports World will attract state, regional, and national visitors for competitive tournaments in a wide number of sports, including traditional and non-traditional events. Sevier County already hosts more than 12 million visitors per year and is one of the country's most popular vacation destinations. City and County officials believe Rocky Top Sports World adds a new dimension to the area's existing appeal, resulting in more guests throughout the year.
While the City and County are funding the complex, The Sports Facilities Advisory was engaged to lead development, opening, and ongoing management. The Sports Facilities Advisory is the country's leading resource for youth and amateur sports facilities, and their experience in successfully planning and managing complexes across the country was viewed as a key to success.
For Rocky Top Sports World, the City of Gatlinburg, and Sevier County, creating a one-of-a-kind family entertainment experience is the goal. The area has long been known for its attractions, including Great Smoky Mountains National Park, Dollywood, and Ripley's Aquarium, and some of the best shopping, dining, art, camping, hiking, skiing, and fishing in the country. Beginning in 2014, expect to see "sports" on the list of reasons to visit.
For more information about Rocky Top Sports World visit http://www.gatlinburg.com/rockytop
About Rocky Top Sports World
Located on 80 acres off of the U.S. 321 in Gatlinburg, Rocky Top Sports World features:

7 full-sized synthetic turf fields
o Configurable for 13 full-sized youth soccer fields
o Championship stadium with 1,500 seating capacity

86,000 square foot indoor facility
o 6 high school-sized basketball courts plus 4 more on site (84'x50')
o Configurable for 3 professional basketball courts (94'x50')
o Configurable for 12 volleyball courts plus 5 more on site
o Indoor/outdoor café and grill
o Recreational climbing wall