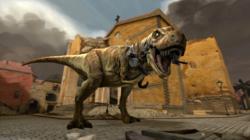 Abe and Brian created an awesome world that we're going to have a great time expanding with Tommy's help. We're excited to use SFM to give fans multiple points of entry, not only via the game and series but also through fan-created content.
(PRWEB) April 25, 2013
Prime-time animation label Icehouse® will partner with game developer 800 North and Metalocalypse creator Tommy Blacha to develop the hit indie video game Dino D-Day into an animated series, Icehouse Creative Director Darragh O'Connell announced today. Icehouse's Gregory R. Little and 800 North's Abe Scheuermann & Brian Ulrich will serve as Executive Producers along with Blacha. Icehouse is owned by Dublin-based animation studio Brown Bag Films.
The series will be produced using Valve's SFM software to simultaneously create the series and a new version of the game, which will share assets and be released side-by-side. Little brought the property to Icehouse based on his experience as producer of Deep, the previously announced animated feature film that also uses Valve's SFM software. Little said, "Abe and Brian created an awesome world that we're going to have a great time expanding with Tommy's help. We're excited to use SFM to give fans multiple points of entry, not only via the game and series but also through fan-created content."
Scheuermann & Ulrich created and produced the game independently using Valve's Source game engine and released it successfully in 2011 on Steam, Valve's game distribution platform. The game will be featured on Steam in a Free Weekend promotion starting Thursday, April 25, 2013 and continuing through the weekend with new maps and content released to players.
The game and series follow a team of Allied soldiers as they battle bloodthirsty Nazi-trained dinosaurs and each other's obnoxious egos. Scheuermann said, "We're looking forward to bringing the comedy and action from the game into a narrative format, and we love Tommy's ideas for that. We have always seen the Dino D-Day world as a funny alternate universe with the perfect match up: the Greatest Generation vs giant, prehistoric predators."
Blacha has a history of success in animated comedy and has also written for live-action series including Late Night with Conan O'Brien and Da Ali G Show. He said, "The first time I saw the Dino D-Day game I was hooked. It's great working on things that are unique and off the wall like that. I love it!"
Production on the next version of the game is already underway, with series production expected to start before the end of the year.
ABOUT ICEHOUSE®:
Icehouse® is the prime-time entertainment brand of Dublin-based animation studio Brown Bag Films® that is dedicated to creating, producing and distributing "Entertainment for Grownups". Icehouse extends Brown Bag Films' creative reach into all-audience and primetime content while ensuring that parents can continue to rely on Brown Bag Films for the best in safe, kid-friendly programming.
Headed by Brown Bag Films Co-Founder Darragh O'Connell and Executive Producer Gregory R. Little, who runs Brown Bag Films' US office, Icehouse is a home for animated comedy and action intended for both digital and traditional distribution. Icehouse supports creator-driven experimentation that gets new ideas produced and out to audiences quickly. The label also serves as a test bed for new animation technologies including games engine-based production workflow.
ABOUT 800 NORTH:
800 North is an indie game development studio based in Los Angeles. It was formed in 2009 by brothers Abe and Parker Scheuermann along with the owners of Emmy-award winning production company Digital Ranch, Rob Kirk and Rob Lihani. The studio's first title, Dino D-Day, was released on Steam in April of 2011. With the successful release of Dino D-Day, 800 North continues to develop properties with the specific goal of leveraging the opportunities digital distribution affords content creators.
Abe Scheuermann began his career in documentary television. He was the series producer and show runner for the smash-hit History Channel series Dogfights and followed this up with Animal Armageddon on Animal Planet. After being introduced to the Source Filmmaker in 2008 he founded 800 North and began work on what would become Dino D-Day.
ABOUT TOMMY BLACHA:
Tommy Blacha was born in Detroit, Michigan. After a failed punk rock career he joined the army and later attended the School of the Art Institute in Chicago. He found his way into the Chicago comedy improv scene and got his first break working as a writer for Late Night with Conan O'Brien for 5 years. He has since been steadily working in pro wrestling, writing, producing animation and live action as well as a voice-over artist.
LINKS:
Dino D-Day website: http://www.dinodday.com/
Dino D-Day Steam page: http://store.steampowered.com/app/70000/
Icehouse Facebook page: https://www.facebook.com/IcehouseStudio
Brown Bag Films: http://www.brownbagfilms.com
Source Filmmaker blog: http://www.sourcefilmmaker.com/