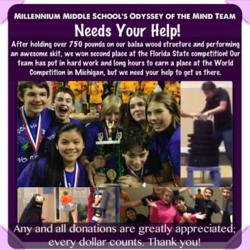 These kids are amazing and dedicated, congratulations to each of them for making it to Worlds.
(PRWEB) April 26, 2013
Millennium Middle School Balsa Wood Team is off to compete in an International Odyssey of the Mind Competition at Michigan State University in May. The team, consisting of seventh and eighth graders*, won second place in the Florida State Competition for their skit and construction of a structure made only of balsa wood and glue. Their structure, which weighed less than 15 grams, was able to support over 700 pounds.
Odyssey of the Mind is an international educational competition where teams work on a solution to a long-term problem over several months. They then compete at a Regional and State level before, if successful, moving on to the World competition. The more creative the solution, the higher points scored. They also compete in short term problems called "Spontaneous".
The kids on the team have worked incredibly hard, competing against schools from all over Florida, to earn their spot at Worlds. At Worlds, they will be competing against teams from other countries, such as China and Russia. They are excited about being able to represent the USA in such an innovative event. The team consists of: Justin Katz, Varissa Gumpangkum, Erica and Sara Husselman, Sean Sheridan, Mike Smith and Annalise Poliner.
David Katz, proud parent of team member Justin Katz stated, "It is great to see the hard work this team has put in over the course of this year preparing for first the Regional and then the State Competition payoff. These kids are amazing and dedicated, congratulations to each of them for making it to Worlds."
The cost of the trip for the entire team to travel with their props is about $10,000.00. Although parents and the school will contribute, to raise enough money for travel and expenses the team has been working hard at fundraising.
They have created a website http://www.gofundme.com/millenniumteama for anyone to visit if they want to contribute and help make the kids' dream come true. Any and all donations are welcome to help ensure that the USA is represented at this "out of the box" thinking world competition.
On May 1, 2013, the team, along with another Millennium Middle School Team, is presenting a showcase at Millennium Middle School in Sanford where they will put on their performance. Additionally, they have built several structures and will demonstrate how they place weights on the structures. There will be a raffle for people to guess the amount of weight each structure will hold. The winners will be rewarded with baskets made possible by donations from local businesses. Admission is free and any and all donations are welcome to help pay for the cost of the trip to the World Competition. All proceeds will go directly to the teams' expenses for the trip.