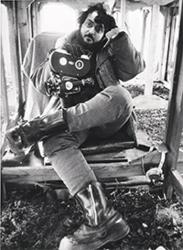 (PRWEB) April 25, 2013
This April update of the American National Biography Online will include the biographies of 41 men and women who recently died, and who had a significant impact on American society and American culture during their lifetime. There are some truly notable lives on the list, from all different walks of life, ranging from the former Secretary of Defence Robert McNamara to the radical feminist Andrea Dworkin; from the politician, poet, and Congressman Eugene McCarthy to the novelist David Foster Wallace; and from the film director Elia Kazan to the chess grandmaster Bobby Fischer. These biographies will join an ever-growing collection of nearly 19,000 biographies already online.
The American National Biography is delighted to announce a new partnership with the National Portrait Gallery at the Smithsonian Institution, to add portrait illustrations from the NPG collection to ANB articles. An initial selection of images will be included in this update, with more to be added in each subsequent update, providing ANB subscribers with a more complete browsing experience.
Susan Ware, General Editor of the ANB, says, "This new partnership between the National Portrait Gallery and American National Biography is exciting for both institutions, but it is especially exciting for users of the ANB. The well-crafted biographical essays the ANB is noted for will now be paired, where relevant, with portraits and illustrations from the rich holdings of the National Portrait Gallery. This is a winning combination."
"American National Biography and the National Portrait Gallery are natural partners. Both offer a place, whether in a museum or online, where people can meet Americans who have made an impact. We are thrilled to be a part of the conversation and research American National Biography offers its users," says Kim Sajet, Director of the National Portrait Gallery.
Many of the portraits added are fascinating in their own right. For example, Stanley Kubrick's portrait and his apparent playfulness and confidence belie a reclusive man, often painfully shy when in front of the camera rather than behind it. Subscribers to the ANB will be able to browse through these images and biographies, using it as a starting point for research projects as a dynamic source of biographical information.