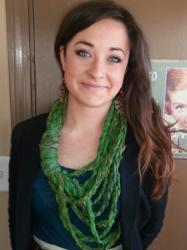 This is close to my heart because it deals with fabrication and disenfranchised people groups, and the opportunity to communicate through art.
Emeran Langmaid, A&E Custom Coffee Roastery
Amherst, NH (PRWEB) April 25, 2013
New Hampshire is now home to a quickly growing community of New Americans from a diverse array of nations and the Nashua area is no exception. Forced out of their homes by brutal ethnic cleansing, the Rohingya have survived as urban refugees in Malaysia for the past twenty years, waiting for a chance to begin their lives again. Unable to return to their country, the United Nations dictated where these people would be resettled, so now, many of the women of Myanmar find themselves In New Hampshire.
A & E Custom Coffee Roastery and Café's Artist of the Month for May is a collective of Rohingya women: A Woven Thread. The work of A Woven Thread will be featured at a reception on May 3 from 6 to 7 p.m. at the Amherst café, located at 135 Rte. 101A. Several of the Rohingya women will be on hand to discuss the artwork.
"This is close to my heart because it deals with fabrication and disenfranchised people groups, and the opportunity to communicate through art. This is an opportunity for New Americans in our community to share their story," said Emeran Langmaid, owner of A&E Custom Coffee Roastery.
A Woven Thread begins their work with recycled, fair-trade thread made from used saris, sourced from another collective of women in Nepal. They transform the thread into a beautiful, new piece of jewelry, a work of art to be work. The program, administrated through Lutheran Social Services, seeks to bridge the gap that can exit between New Americans and their new community. They learn skills that will help them integrate into society in their new home. They make connections beyond their tightly-knit family groups. The process also allows these women to show their inherent skill and creativity, and traditions that have been passed down from mother to daughter, in a way that can be understood universally.
The project was initiated by Katie Berube, a local resident and Employment Specialist at Lutheran Social Services of New England. Berube helps resettle refugees that come to New Hampshire, assisting them with housing, finding work, and other essential life activities. The art project was her idea to bring the women together to build a community. Although the women came from the same country, they did not come from the same areas and did not know each other prior to their American arrival.
"I got involved because Katie asked if I had extra burlap bags they could use as tags for the jewelry," says Langmaid, "I loved the project and invited them to be showcased in the café for May."
The May 3 event is a chance for the public to see this work and connect with some of the artists face to face, completing a loop of communication, validating their expression of creativity, and celebrating a beauty uncovered anew. Light appetizers, coffee and tea will be available and complementary. Baristas will also be on hand to create espresso beverages for those who wish to purchase them. Admission is free, and the event is open to the public.
For more information about the event, contact A & E Roastery and Café at (603) 578-3338 or by email to customerservice(at)aeroastery(dot)com.
About A&E Custom Coffee Roastery
Established in 2001, A&E Custom Coffee Roastery provides each customer with personalized service and the freshest coffee and tea possible in a business that promotes environmental stewardship and economic fairness to growers. The company offers a variety of certified-organic, shade-grown, Fair Trade coffees from around the world. Owner Emeran Langmaid and Roastmaster Adam Langmaid custom roast each batch in the Amherst café, guaranteeing the freshest, most flavorful coffee possible.
For more information about the company, please visit http://www.aeroastery.com or the Facebook page: http://www.facebook.com/aeroastery.