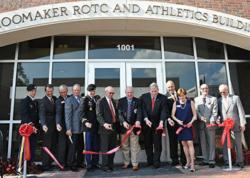 Tampa, FL (PRWEB) April 27, 2013
The Special Operations Warrior Foundation has partnered with the University of Tampa to offer five annual scholarships to the children of fallen special operations soldiers, sailors, airmen and Marines.
Additionally, the University of Tampa has named its newest building on campus in honor of retired Army General Peter J. Schoomaker. The facility will be shared by the school's ROTC and Athletics programs, and will be the home of the Spartan Battalion, the University of Tampa's Army ROTC cadre.
During his distinguished career, Gen. Schoomaker – a founding member of the Army's Delta Force – served as the 35th Army Chief of Staff and the fifth commander of the U.S. Special Operations Command.
"I cannot tell you how pleased we are that our high school graduates will have the chance to attend the University of Tampa," says retired Air Force Colonel John T. Carney Jr., the foundation's president and CEO.
"This partnership with UT will make it possible for many deserving children to attend a nationally-recognized and military-friendly university, and gain the education that their fallen parent would have wanted for them," Carney says.
The Special Operations Warrior Foundation is a top-rated nonprofit organization that provides full college scholarships for the surviving children of fallen military special operations personnel.
In 2012, for the third time, the University of Tampa was included in the Forbes magazine fifth annual ranking of America's Best Colleges. Inclusion, the UT website notes, is based on "things that matter the most to students: quality of teaching, great career prospects, graduation rates and low levels of debt."
UT has also been recognized by Military Advanced Education and G.I. Jobs magazines for helping active-duty service personnel and veterans reach their academic and career goals.
"We're excited about this unique partnership, since the University of Tampa can support these students and help them develop academically and professionally," says University of Tampa President Robert Vaughn.
He adds, "This partnership fits in nicely with UT's long history with being supportive of the military, through UT's ROTC program and Department of Military Science and Leadership."
For more information about the Special Operations Warrior Foundation, visit http://www.specialops.org