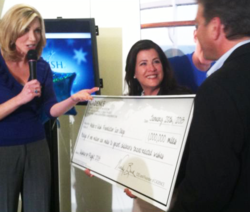 "I will personally be walking on Saturday to show my support and enthusiasm for our charity efforts." - Cadence CEO & Founder, Wendy Burk
(PRWEB) April 25, 2013
At the beginning of 2013, Cadence made an ambitious commitment to become the travel ambassador of Make-A-Wish® San Diego. On Saturday, April 27th, the travel management company will come together for their first charity event of the year to provide and serve breakfast to about 1,000 participants of the 4th Annual Walk for Wishes.
In the spirit of the event, Cadence formed their own fundraising team, Cadence for Kyle, in honor of a San Diego Wish Kid. Eleven-year-old Kyle is suffering from a congenital heart anomaly but dreams of visiting his family in Cambodia for the first time. Cadence has adopted Kyle's wish and hopes to raise $8,000, the average cost of a wish.
Through the contributions of friends, family and colleagues, Cadence has raised approximately 75% of their goal, but donations are gratefully accepted from anyone whose heart goes out to this organization. Cadence CEO and Founder, Wendy Burk, has been Kyle's advocate since the day they met in January.
"Back when we pledged $1 million miles at the Wishes in Flight air miles drive telethon, Chris Sichel, President & CEO of Make-A-Wish San Diego, said on air that we have taken a big leading role in showing this community how to help. We will continue to fulfill our leadership role in both the travel industry and in San Diego. I will personally be walking on Saturday to show my support and enthusiasm for our charity efforts." Wendy will appear live this Friday, April 26th, on KUSI San Diego on the 8am/9am PST segments to promote Cadence's support one last time before the walk.
Donations are accepted on Cadence's team page here. Once Kyle's fundraising goal is raised, Cadence will focus on collecting auctionable travel packages for the 5th Annual Roll Out the Barrel Auction on July 13th during their "wine and wishes" event in San Diego. Cadence has been diligently working with travel vendors throughout the world to raise awareness for the Make-A-Wish fundraising auction. Packages have already been donated from some of Cadence's preferred partners, like Four Seasons Hotels and Resorts and The Ritz-Carlton Hotels.
About Cadence:
Cadence is a full service travel management company specializing in simplified business travel, flawlessly executed meetings and incentives, and unforgettable vacations and cruises. As a branch of the Tzell Travel Group, the largest travel management company in the world, Cadence can offer a local touch with a global reach. As proud members of Virtuoso, Cadence offers exclusive amenities and complimentary upgrades. Find Cadence on most social media websites via the username cadencetravel.