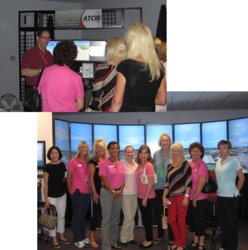 Central Florida Women in Aviation tour Adacel simulators
Orlando, Florida (PRWEB) April 26, 2013
Adacel welcomed the Central Florida Chapter of Women in Aviation International to a reception held at Adacel's Orlando Headquarters on the 18th of April. Ten very accomplished women representing a wide range of roles within the aviation and environmental fields attended to learn more about Adacel's role in the aerospace community.
In an informative and quite entertaining presentation by Adacel's Chief Operating Officer, Gary Pearson, the ladies were apprised of the extensive reach of Adacel's air traffic management solutions, air traffic control and other aviation related simulation and training devices in use around the world. Following the presentation the women experienced first-hand many of Adacel's training systems from aviation phraseology trainers, to interactive air traffic control environments for flight simulators, to airfield driving simulators and Adacel's state-of-the-art high-fidelity air traffic control simulators.
In all, it was a delightful evening of conversation and discussion during which Adacel enjoyed showcasing their capabilities to a very knowledgeable and enthusiastic group.
To learn more about Adacel visit http://www.adacel.com
About Women in Aviation International
Women in Aviation International is a nonprofit organization dedicated to providing networking, education, mentoring and scholarship opportunities for women who are striving for challenging and fulfilling careers in the aviation and aerospace industries.
About Adacel
Adacel is a leading developer of operational air traffic management systems, speech recognition applications and advanced ATC simulation and training solutions. The Company's products are widely used throughout North America, Europe, the Middle East, and Asia Pacific regions.