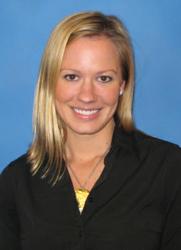 Pittsburgh, PA (PRWEB) April 26, 2013
After several years in a variety of capacities, Sarah Beck, CRP, GMS, has transitioned to the position of Account Manager at AIReS' West Coast Regional Office (WCRO) in Huntington Beach, CA.
On Ms. Beck's new position, AIReS' Vice President, Western Region, Jim Markle, said "We are very excited to have someone with Sarah's knowledge and success within the operations of AIReS move into an Account Manager role and be able to share our story with the corporate world."
Ms. Beck joined AIReS in 2005 as a Program Manager, with previous experience in residential property management and real estate. She took on the new role of Client Service Manager in 2008, working on transition and implementation of new business engagements and ongoing account management with corporate clients.
In 2010, Ms. Beck relocated from AIReS' Corporate Headquarters in Pittsburgh, PA to WCRO and assumed the role of Operations Manager. Throughout her career at AIReS, Ms. Beck has also been involved in several strategic operations initiatives and the development and roll out of new technology efficiencies.
"I truly view AIReS as my extended family and feel a sense of belonging," Ms. Beck said of her time with the company. "I look forward to the WCRO office's growth and success, to seeing each and every team member here rise to the next opportunity. For myself, I look forward to a long and successful career here and to continue to learn from our inspirational leadership every step of the way."
Ms. Beck will service corporate clients in Los Angeles, Orange County, and San Diego, as well as Arizona, Nevada, and Utah.