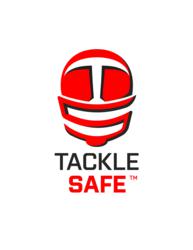 "The players of the National Football League believe it's important that our partners and licensees support our mission to make the game safer for athletes at every level," said DeMaurice Smith, executive director of the NFL Players Association
New York, NY (PRWEB) April 25, 2013
Head injuries in all levels of football – professional, youth, high school and college – are a leading health concern for athletes and their families. TackleSafe™ is an innovative tackling curriculum designed to help reduce head and neck injuries. TackleSafe is produced by SOTLTraining.com, a leading publisher of football training classes and a licensed partner of NFL Players Inc. (NFL Players).
"The players of the National Football League believe it's important that our partners and licensees support our mission to make the game safer for athletes at every level," said DeMaurice Smith, executive director of the NFL Players Association. "We applaud SOTLTraining.com for its efforts to educate athletes on injury prevention through the TackleSafe program."
TackleSafe is the creation of veteran NFL coach and tackling guru Thurmond Moore, who has been conducting tackling clinics around the world for the past seven years. Moore developed the tackling program while honing the technique of top defensive linemen at all levels including coaching at a dozen collegiate football programs, five NFL stops, one UFL campaign and two NFL Europe seasons. He has personally instructed outstanding defensive players including Joey Porter, Dwight Freeney, J.J. Watt and Aldon Smith.
"Football is always going to be a contact sport and there is a correct way to tackle that every player needs to learn, and every coach needs to teach," Moore said. "The fact is that every player on the football field at one time or another will be in a position to make a tackle, quarterbacks and kickers included. Many neuro-cognitive injuries are caused by improper tackling. TackleSafe teaches innovative techniques that can potentially mitigate head and neck injuries caused by faulty tackling form."
TackleSafe is a video training program led by Moore. Minnesota Vikings defensive end Jared Allen is also featured, assisting Moore in demonstrating the tackling technique that can be a game changer for players at every level. The training program teaches players to tackle by leading with the chest, which can help protect the vulnerable head and neck.
"This is a tackling technique that must be taught and practiced," said Allen, a four-time Associated Press First-Team All-Pro player. "It's more than just keeping your head up. It's the foundation for tackling properly and should be required training, especially at a young level. If I had a son, this is the training video or method I would use to start him out. From someone who tackles people for a living, there is no better way and this should be the only way for players and coaches to learn."
Vital for training youth
TackleSafe is endorsed by American Youth Football (AYF). AYF has 700,000 youth football players and 100,000 youth football coaches participating in 50 states.
"We know that safety is the number one priority for parents, and we take pride in our safety-first risk management at American Youth Football," said Joe Galat, president of AYF.
"It is absolutely imperative that parents with children considering youth football make sure their children are trained how to tackle properly. It is our intention to have every AYF coach learn the TackleSafe method to ensure that proper tackling technique is taught at the earliest stages of training."
The TackleSafe video training program is produced and distributed by SOTLTraining.com. Ernie Conwell is director of training for SOTLTraining.com. Conwell played eleven years in the NFL as an all-pro tight end with the St. Louis Rams and New Orleans Saints. He also co-chairs the NFLPA Mackey-White Committee.
"SOTLTraining.com actively sought Thurmond Moore and Jared Allen to help us produce the TackleSafe program," Conwell said. "We strongly believe TackleSafe can help revolutionize safety in football and mitigate head and neck injuries. The days of dropping the head and trying to drive through a ball carrier with the crown of your helmet must end. Thurmond's technique of leading with the chest is a proven method used by a growing number of the top defensive players in the NFL and we want to help train every football player."
Reebok sponsors TackleSafe
Reebok is a sponsor of the TackleSafe program, and will soon be introducing The CheckLight, a device that measures forces of impact to the head. Developed in conjunction with technology partner MC10, the CheckLight is a lightweight skullcap that fits on the head under the helmet with sensors to help measure and detect dangerous hits to the head. The Reebok CheckLight will be available to consumers in June.
Isaiah Kacyvenski runs the Sports Business Segment for MC10. Kacyvenski played eight years in the NFL as a linebacker and member of special teams for the Seattle Seahawks, Oakland Raiders and St. Louis Rams. He went on to Harvard Business School and developed The CheckLight in collaboration with Reebok.
"I love the game of football and want to see my son play the game that has taught me so many valuable lessons throughout my life," Kacyvenski said. "I believe that the tackling techniques promoted in the TackleSafe program not only make for a safer athlete, but also a better athlete. We're proud to sponsor a program that is so aligned with the work we're doing to promote safer play. The goal of the Reebok CheckLight is to change player behavior at the point of impact. The CheckLight uses an LED system in the back of the skullcap to remind athletes to take their head out of impacts in order to avoid triggering a light."
TackleSafe will be available in May through SOTLTraining.com and American Youth Football.
About SOTLTraining.com
SOTLTraining.com (School of the Legends), headquartered in Brentwood, Tenn., is an officially licensed partner of NFL Players Inc. SOTLTraining.com offers "Legends in Training" football training courses, which include online and DVD classes by such legends as Michael Vick, Larry Fitzgerald, Tony Gonzalez, Maurice Jones-Drew, Warren Moon, Kevin Carter, DeAngelo Williams, DeSean Jackson, Dwayne Bowe and Jerome Bettis. SOTLTraining.com also has an exclusive agreement with the prestigious Manning Passing Academy to create a course featuring the founder Archie Manning, Peyton Manning, Eli Manning, Kelly Holcomb and Christian Ponder. The training videos are available at http://www.SOTLTraining.com.
About American Youth Football
American Youth Football® (AYF) is an independent 501(c)(3) non-profit organization that provides support services, scholarships, grants, giving back programs and tournaments to 1,000,000 youth football players and cheerleaders in 50 states and several countries worldwide. AYF is committed to Giving Back and since its inception in 1996, has donated over $15 million dollars in grants and athletic product to communities that support youth football. AYF was the first national organization to offer all-inclusive football divisions, enabling every child a place to play. For more information visit the website at http://www.americanyouthfootball.com.