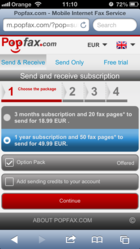 Fax is mobile with Popfax!
(PRWEB) April 30, 2013
Everything that can be mobile, will be! The world of communication is progressively moving over to mobile devices, and fax technology therefore, is following the trend. It allows end-users to scan and send important documents by fax with a smartphone, that is extremely convenient in terms of portability, emailing and archiving information on the go.
Popfax is pleased to announce the launch of new features on the mobile fax website.
With upgraded fully-featured mobile fax from Popfax all smartphone users can:

Subscribe to the Popfax internet fax service right from an internet-enabled mobile device, by choosing the all-inclusive Send & Receive offer with a dedicated fax number provided or ported to Popfax, or by taking the Send Only pack with no fax number attached.
Try the Popfax service for free from a smartphone: the subscription to the Free Fax Trial in several clicks allows users to send up to 4 fax pages and to receive an unlimited number of faxes. The extension of the Free Trial will keep the fax number that has been provided for the test.
Use any payment method available on Popfax.com to buy packages, options, sending credits from the mobile site. Mobile payments at m.popfax.com are highly secured and offer users a high level of confidence.
The Popfax mobile fax website is another window into a Popfax account, with a user-friendly interface in several languages (English, French, Spanish, Italian, German, Russian, Romanian) compatible with all smartphones based on the iOS, Blackberry or Android operation systems. It is easy-to-use and includes a simplified design and all available productivity fax tools:
Faxing documents of various extensions (*pdf, *doc, *jpg, *gif, etc.), previously saved on the mobile device and/or captured with the phone camera;
Storing and managing sent/received faxes, SMS's, voice mails;
Customizing cover-pages for outbound faxes;
Providing OCR (copy paste capability, desktop search engines indexing…) in all received faxes;
Grouping of all contacts.
The Internet Fax Mobile Site is instantly accessible to users via a browser across a wide range of devices and does not require any downloads or installations.
Being liberated from phone-line connected fax machines and gaining the freedom to perform any faxing operation from a smartphone are both very good reasons to change for the wireless mobile fax provided by Popfax. Gain mobility now!
Scan and fax application for smartphones
In the first 3 months of 2013, over 15% of world web traffic originated from smartphones. Especially for app-addicted smartphone users, Popfax has developed the Popcompanion mobile fax app for iPhone and Android-based devices, which allows for the easy scanning and faxing of any document (single-page or multi-page) with a smartphone/tablet.
Popcompanion application is worth adding to our users app library: use it to scan documents, notes and receipts with your smart phone camera, and instantly send the resulting fax-able documents.
Users can download the scan and fax application from iTunes, Google Play or Blackberry Marketplace!