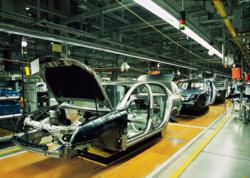 China is an important market place for global OEMs who are increasingly establishing manufacturing plants and supply chains in China
Peterborough, Cambridgeshire (PRWEB UK) 29 April 2013
Data Interchange Plc., a leading provider of electronic data interchange (EDI) and B2B integration solutions today announced a distribution partnership with Commit-Info, a Chinese provider of Business Intelligence software and services for global manufacturers, that will see Chinese automotive parts manufacturers being able to take advantage of Data Interchange's EDI solution portfolio.
Data Interchange will provide their EDI technology, expertise and know how to support Commit-Info, enabling Commit-Info to deliver EDI integration solutions for customers looking to implement and standardize EDI to trade with global automotive OEMs. The EDI and e-Business capabilities delivered by Data Interchange's EDI solutions will significantly enhance the competitively and agility of Commit-Info's customers.
"Our EDI solutions and deep automotive experience are a natural fit with Commit-Info's local knowledge and presence", said Ewan Friend, Managing Director of Data Interchange.
This partnership with Commit-Info builds on Data Interchange's 25 years of experience of working with partners in over 30 countries. "With our combined geographical footprint we are able to provide Chinese customers with a truly global offering backed up local support and decades of EDI expertise." commented Ewan.
"We're excited to have partnered with Data Interchange" commented Joe Cai – CEO of Commit-Info. "The Chinese automotive market is not currently serviced well by EDI providers, and we foresee significant uptake of EDI by Chinese suppliers who trade with global OEMs who mandate the use of EDI with their supply chains".
About Data Interchange
Data Interchange is a leading provider of electronic data interchange (EDI) and eBusiness solutions for global organisations specializing in automotive, manufacturing, logistics, and local and national government. Data Interchange solutions provide critical functionality for managing communications and data transformation within and beyond the enterprise, enabling global organisations to collaborate with their customers, suppliers and partners. For more information about Data Interchange, telephone +44 (0)1733 371311, or visit the Data Interchange web site at http://www.datainterchange.com.
About Commit-Info
Commit-Info is a provider of Business Intelligence and EDI solutions to Chinese companies. For more information about Commit-Info visit the Commit-Info web site at http://www.commit-info.com.