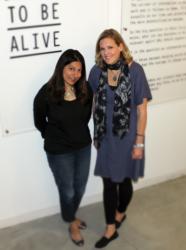 "It's always about bringing in people who will help the agency elevate to higher places," said Postaer. "Sabrina and Kathryn are extremely knowledgeable, entrepreneurial-minded, good people. What more can you ask for?"
San Francisco, California (PRWEB) April 29, 2013
gyro, the global ideas shop, has appointed two new leaders to help shape its growing San Francisco office. Sabrina Galati has been tapped as VP, Media Director of gyro San Francisco. Kathryn Redekop joins as VP, Agency Operations, for the office.
Galati brings with her 14 years of digital experience, having created innovative cross-platform strategies for dozens of brands including Nissan, Publix, Florida's Natural Orange Juice and Texas Instruments.
Galati was most recently media director at Moxie Interactive, managing its Verizon Wireless Device business. Prior to Moxie, she worked at top shops including 22squared, JWT, TBWA\Chiat\Day and McCann Erickson.
Redekop brings a tremendous amount of experience and expertise to digital and off-line content creation and production. Throughout her career, Redekop has worked on blue-chip clients including eBay, Intel, LG, Scion, Taco Bell and Microsoft. She has held past leadership roles at McCann Worldgroup and Publicis Modem. Most recently, she was Vice President/Group Director, Project Management at Digitas San Francisco.
They join Drew Meyers, president of gyro San Francisco, and Executive Creative Director Steffan Postaer, who have teamed to quickly elevate this innovative, technology-focused office to a new level.
"We are fortunate to welcome Sabrina and Kathryn. Both know what it takes to succeed," said Meyers. "Sabrina is advancing gyro's media offerings to create programs that generate business impact. She is absolutely driven to push the boundaries of what we can do for our clients.
"Kathryn will bolster our project management and production capabilities to support execution of the creative ideas we are igniting on behalf of our clients," said Meyers.
"It's always about bringing in people who will help the agency elevate to higher places," said Postaer. "Sabrina and Kathryn are extremely knowledgeable, entrepreneurial-minded, good people. What more can you ask for?"
Galati said, "gyro's commitment to creating an unconventional agency designed to meet clients' current needs is unique. They understand the changing media landscape and the need for creativity at all touchpoints, no matter who the client is."
Redekop said, "gyro's growth, leadership and culture are all very unique. Drew and Steffan are building something very special here. I am happy to be a part of it."
gyro San Francisco's client roster includes a strong mix of new clients and organic growth, including CA Technologies, Cloudera, Quantum, Varian and VMware.
###
About gyro
Our mission is to create ideas that are humanly relevant. gyro is an Advertising Age Top 50 global ideas shop with 600 creative minds in 15 offices around the world. Globally gyro works with Abbott, Audi, Deloitte, FedEx, HP, John Deere, The Kellogg Company, Kimberly-Clark, Newell Rubbermaid, SAP, Virgin Atlantic and USG. http://www.gyro.com