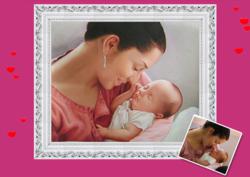 North Miami Beach, FL (PRWEB) April 25, 2013
Just in time for Mother's Day shopping, PaintYourLife.com has announced an exciting new partnership with Ebates that will see one very lucky winner walking away with a $200 gift card that can be used to purchase any of the items on their website. This incredible offer could be just the thing to give a mom the gift of a lifetime. After all, what could be a better Mother's Day gift than a personalized painting from a picture depicting the special bond that a mother and child share.
No purchase is necessary in order to be entered to win this exciting prize. All customers have to do is visit the webpage for the contest and leave a comment telling the world just how much they love their mom and how much she means to them. The comment should also say why this particular mother would love a gift from PaintYourLife.com, like a photo print on canvas from a picture of a special vacation, or perhaps a favorite photo from childhood. There are so many options available that a few custom pieces might be in order—with a $200 gift card to PaintYourLife, it may be possible to purchase a piece of art not only for one's mom, but also for oneself.
With the highly customizable products offered by PaintYourLife.com, almost any gift is possible. Just let the experts know exactly what you want, whether it's one of the classically produced oil portraits or canvas pop art inspired by favorite family photos. And here's a little secret—in addition to the entry received from the original comment on Ebates, additional entries can be obtained by liking the official Facebook page of PaintYourLife, and another one for following the official Twitter account of Ebates. That's a total of three entries, and three chances to win an incredible prize that is sure to make this Mother's Day a memorable one.
Even those that aren't the big winner of the prize being offered on Ebates can still take advantage of PaintYourLife.com's Mother's Day sale, which is going on right now. All that is needed is to visit http://www.paintyourlife.com and enter the code MOM25 at checkout for an extra 25% off of the regular purchase price. Flowers wilt over time, and the most delicious chocolates can disappear within a day. However, an original piece of art produced using your own photograph is forever. Mother's Day is coming up fast, but there's still enough time to place your order and receive the art before May 12th.
About Paint Your Life
Paint Your Life was founded in 2006, and features one of the world's largest selections of canvas and art products. All products are designed by a team of professional graphic designers, and each product is created with the utmost quality and attention to detail. The site, which is a leader in the online art industry, has seen tremendous success because of customer and word-of-mouth referrals, and continues to expand its products to cater to a wide variety of needs.