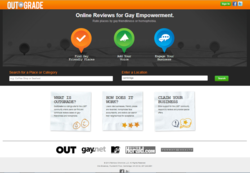 "With the power of the Internet and the mobile web, we can now effectively hold homophobic businesses accountable for their actions and reward the friendly."
-Travis Lowry, OutGrade CEO
Boston, MA (PRWEB) April 30, 2013
OutGrade is a new venture looking to expose homophobic establishments and promote those which are gay-friendly. With its recent launch, it is currently the only website that allows users to rate the LGBT-friendliness of any business. It calculates scores by aggregating user reviews, then plots those scores on a map using colored pinpoints ranging from red (bad) to green (good).
The map allows users to see the concentration of LGBT friendliness in a neighborhood and not just establishments. By mapping gay-friendliness and homophobia in a neighborhood, travelers are provided an insider's guide of an unfamiliar area. The platform empowers users to air complaints, reward friendly establishments and build upon the experiences of others.
"With the power of the Internet and the mobile web, we can now effectively hold homophobic businesses accountable for their actions and reward the friendly," says Travis Lowry, Founder and CEO of OutGrade.
OutGrade aims to be the online destination for the LGBT community to inquire further about the companies they deal with on a regular basis. Whether it's going out to dinner, getting an oil change, or selecting a dentist, OutGrade moves beyond simply listing LGBT owned businesses or focusing on LGBT specific places.
OutGrade connects the LGBT community to businesses that support them and provides tools to expose homophobia. OutGrade has partnered with Travel Zoo (TZOO) to curate gay friendly local deals for both sites' readership as an initial step in connecting LGBT friendly businesses with the LGBT community.
With an Android and iPhone app in development, OutGrade can still be accessed on the go through its mobile site and used to rate any place in the world.
Main OutGrade Features:

Search for establishments by name, category and location
Rate businesses according to LGBT-friendliness or homophobia
Read other OutGraders' reviews of homophobic and LGBT friendly companies
Review filtered search results on a map for a geographical overview
About OutGrade
OutGrade is a user-based reviews website that empowers users to fight homophobia with their own voices. Formerly named Rainbow Chronicle, the company was conceived in 2009 and launched in 2012. For more information, please visit http://www.outgrade.com or send an email to press(at)outgrade(dot)com