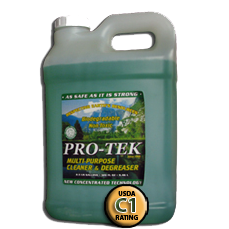 Glenns Ferry, ID (PRWEB) April 29, 2013
Pro-Tek Chemical Inc. is proud to announce their 10-year membership with the Better Business Bureau. The care that they ensure customers and do as much as they can to prove such care. Pro-Tek understands the value of customers and appreciate the support they offer. Thanks to their customers, Pro-Tek has become the leader in their field of janitorial cleaning supplies.
They would also like to thank their crews in the field who sell product diligently and effectively. Pro-Tek's nationwide staff of contractors are constantly being trained to stay in step with current trends in the marketplace. Owners and managers of these sales teams are entrepreneurs who aren't just satisfied with doing the minimum workload. They are aspiring to create a long lasting company that passionately believes in self-regulation to standards of transparency, honoring promises, advertising honestly, safeguarding privacy, and acting with integrity.
Pro-Tek Founder and Owner, Denver Price says, "It is an incredible honor to have been a member of the BBB. At Pro-Tek we work exceptionally hard on our customer experience, quality control, and having a cutting edge, quality product. The recognition from the BBB is validation for the hard work we put into our company."
Pro-Tek Chemical is honored to receive a certificate of excellence from the BBB reading that their product is "Engineered with imagination and originality to perform with unsurpassed excellence. Manufactured with old-fashioned American Pride in our products."
About Pro-Tek Chemical
For over 30 years Pro-Tek has been providing the best eco-friendly cleaners to households internationally. It is a leading name in the environmental cleaner industry. With millions of customers, they provide a great alternative to harsh and chemically threatening cleaners.
For more information about Pro-Tek Chemical please go to their website http://www.protekchemical.com
###