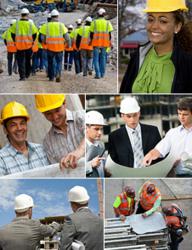 If contracting or building companies can use our site to find extra help to assist them in the rebuild, or to find the answers to how to get involved in the rebuilding effort, then we have done our job.
Dallas, TX (PRWEB) April 25, 2013
The nation is still reeling from a series of tragedies that left cities and towns in devastation last week. In Boston, three people's lives were taken and hundreds more were injured on top of $333 million worth of economic damage to the city. In the small town of West, TX, 15 people lost their lives with hundreds injured in addition to home and property loss that could add up to over $100 million in damage. Construction Connection, the community website dedicated to uniting people from across the construction industry, has announced plans to help in the rebuilding effort to help the victims of these tragedies by offering a free platform to post and find jobs to help in the rebuild as well as educational resources and support.
By registering on ConstructionConnection.com, both employees and employers can create a free profile, which is instantly visible to over 45,000 members already registered on the website; through extensive SEO and social media campaigns, members are connected to hundreds of thousands of people. Unlike most job-posting sites, Construction Connection does not focus on resumes. Instead, users complete a detailed profile that allows them to not only showcase their industry specific gifts and talents, but their ability and willingness to travel, specific education, licenses and training they have received along the way. Then, using their patent-pending job matching system, business owners, contractors, and company administrators can post detailed jobs and get connected to a manageable number of highly qualified candidates. By matching only the most relevant candidates with construction jobs for which they are qualified, employers can hire new builders and workers quickly to start aiding in the rebuilding efforts.
Co-Founder of ConstructionConnection.com Kent Leighton is a resident of Marble Falls, Texas, so he was especially affected by the devastating explosion that took place a few hours away in West, TX. "During times like this, the best thing we can do is to work together. At Construction Connection, we're proud to be able to offer help in the wake of such devastating events," expressed Leighton. "If contracting or building companies can use our site to find extra help to assist them in the rebuild, or to find the answers to how to get involved in the rebuilding effort, then we have done our job."
While many members use ConstructionConnection.com to find or hire for construction jobs, the site also boasts a wealth of educational resources. Resources include a series of safety toolbox talks, practical tools for job cost accounting, educational blogs and articles written by experts in various construction fields and access to the Construction Connection partners. The partners program on ConstructionConnection.com is a free resource for members to seek out advice and services from professionals in a variety of areas. The partners include engineering firms, attorneys, fringe benefit consultants, manufacturers and more.
Construction Connection provides a platform for small and mid-sized construction business owners to find the solutions to their problems or questions. If a member is having a difficult time finding the answers they need, Construction Connection also offers support through their online chat, toll-free phone number and consulting services. In many instances, Leighton and his partner Suzanne Breistol will offer personal support to help their members get the most out of their site, which often in these tragic situations most importantly includes encouragement. Construction Connection also has a blog filled with articles written specifically for education and encouragement to help people who are not only rebuilding structures, but to help people rebuilding their lives as well.
Construction Connection was created out of a need for a more effective and streamlined way for construction industry professionals to get matched with the right industry jobs and with the right industry opportunities. The partners of Construction Connection, both industry professionals themselves, listened to both company and individuals' dissatisfaction with the traditional job boards, the paid resume blasts, the overpriced resume services and overall lack of sympathy toward the individual candidate. They listened to the dissatisfaction from companies who post jobs only to get many irrelevant results or having to purchase high priced ads to showcase their company. Construction Connection is a patent-pending, one-of-a-kind profile creating / match-making system. The system delivers effective results. Construction Connection saves you time, money and aggravation by matching people to people, people to companies, companies to people, and company to company.