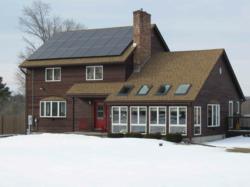 Canton, CT (PRWEB) April 25, 2013
A new addition to the Solarize Canton program will make it easier for residents to calculate their solar return on investment, using a new Solar Wealth Calculator. This financial tool is available on a very limited basis, and Canton is one of the few communities with access to this opportunity through Canton's Solarize installer Ross Solar Group in partnership with the Clean Energy Finance and Investment Authority. Residents can learn more about Solarize and the Solar Wealth Calculator by attending the upcoming Solarize Workshop on April 27th at 11:00 at the Canton Community Center on Dyer Avenue.
Strong interest in Solarize Canton has resulted in the program already achieving Tier 3 pricing, lowering the cost for all participants below the already discounted price. Residents who have not yet attended a workshop are encouraged to learn if their house is right for solar and how to use the Solar Wealth Calculator, to see for themselves whether the solar system designed for their roof makes good financial sense.
Solarize Canton ends on July 12th and residents must sign a contract by then to qualify.
Residents can learn more about the Solar Wealth Calculator as well as contacting Ross Solar Group for a site visit, by visiting http://www.solarizect.com/Canton or calling 203-512-4500.