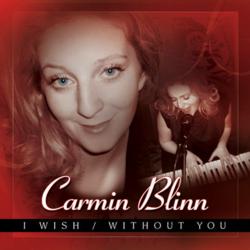 New York, New York (PRWEB) April 30, 2013
Carmin Blinn was born on August 9, 1981, in Maple Ridge, Canada. Growing up in a small town, Blinn had limited opportunities for the performing arts, but she never allowed this to restrict her ambitions. From very early on, Blinn was dedicated and driven, and began piano lessons at the age of 5. Soon, she was performing in her father's church and formed a girls singing group at age 10 called "Forever His." Over the next 8 years, they would tour Eastern Canada and the Northeastern U.S., performing at schools, local television shows, churches, and charity events. They recorded an independent album in 1998, of which Blinn wrote and composed original songs.
Blinn proved to be exceedingly talented, and at 16, she entered an international talent competition in Cincinnati, where she won first place in the female solo division, as well as the original composition category, for her song, "Losing my Best Friend." She also was nominated "Most likely to succeed" by the judges. She was awarded a full music scholarship, and graduated from Indiana Wesleyan University in 2002.
After moving to Philadelphia, Blinn continued to perform her own music in small venues, and was approached to audition for a professional funk and soul band called "The Coup." She performed with them for the next 4 years, singing lead vocals and covering all kinds of music from Etta James to Aretha Franklin, Diana Ross, and Donna Summer. The Coup performed for many black-tie events throughout historic Philadelphia, and Blinn had the opportunity to work with a diverse group of very talented musicians and performers. It was then that she developed her soul-stirring stage presence and unexpected soulful voice.
Blinn moved to NYC in 2006, where she currently resides, and continues to pursue a career in full-time music. She recently recorded her first demo, which includes her own original songs, "I wish," and "Home," which showcase both her rich, powerful vocals and delicate melancholy.
Blinn has been described as one of the few artists who can capture an old-school emotion and make it feel refreshingly new. She has been compared as a Alicia Keys-Bonnie Raitt-Sarah McLaughlin infusion, and is certainly identifiable as a current and unique artist.