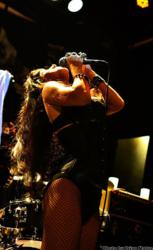 Vajra's music is "sinister, sprawling and stately, featuring booming, tribal drums, ominous synths, and lucent, spiraling guitars."
New York, New York (PRWEB) April 26, 2013
Rock and fashion are inextricably fused. So it's no surprise when Supercuts chose NYC based Progressive Rock quartet Vajra as a VIP 'Rock The Cut' Artist Ambassador. Vajra's music will be featured on the Rock The Cut website and played in over 2,000 Supercuts salons across the country. And, Rock The Cut users can download Vajra's single "Inside The Flame" for free on the site. The program is being promoted by a large national media campaign.
Vajra's music is "sinister, sprawling and stately, featuring booming, tribal drums, ominous synths, and lucent, spiraling guitars. What further sets them apart is the East Indian mysticism that pervades, thanks to Pinna's hypnotic, Classical Hindustani-tinged singing and the presence of [the] tabla…" –Big Takeover Magazine
The band recently released their debut album 'Pleroma', which has been garnering favorable reviews from around the globe. "Pleroma is the new record from progessive rock band Vajra and it's a tapestry of vibrations. Each track curls around the hips of the heavens and just gets all nice and weird....it's a great soundtrack for a mysterious evening or a day shopping for moon boots." -RockWorld Magazine
"Spellbinding. That is probably the best way to describe this astonishing debut release by Vajra,...Much of the music on Pleroma alternates between these extremes in a kind of musical yin-yang, soft and ethereal, dark and chaotic. All the while, Pinna's voice holds authority. The result is an innovative nexus of melodic prog, World beat and hypnotic Eastern vibes, delivered with dramatic panache." -Nick Tate, Progression Magazine
To download Vajra's single "Inside The Flame" for free, go to: http://rockthecut.supercuts.com/Home/ViewArtists/492
For more about Vajra:
http://www.facebook.com/vajratemple