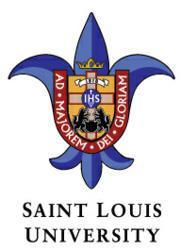 St. Louis, MO (PRWEB) April 25, 2013
The School for Professional Studies at Saint Louis University has named Steven Winton, Ph.D. as the new Chair for its Leadership & Organizational Development(LOD) graduate program. This 36-hour program is designed for working adults looking to pursue a career or enhance their skills in management, human resources and business leadership. Courses are offered in online and blended formats in accelerated eight-week terms.
Prior to this position, Steven was a full-time, tenure-track assistant professor in the Organizational Studies Department at SLU—teaching in the LOD program as well as for the school's BJC Healthcare Partnership. He has also worked as a consultant for SLU as well as for other notable organizations including the Veteran Health Administration of the VA Hospital, Nestle-Purina, Anheuser-Busch and the Federal Aviation Administration. His diverse background includes providing consulting expertise in using climate survey data to drive action and development as well as working with groups and individuals to improve processes, team dynamics and leadership skills. Steven's research interests range from group effectiveness and organizational learning to employee engagement.
Dr. Winton received his Master's of Science from Missouri State University in Industrial/Organizational Psychology and his Ph.D. in Industrial / Organizational Psychology from Saint Louis University.
All classes in the School for Professional Studies are offered in accelerated eight-week sessions and are designed for busy adults with affordable tuition rates as well as convenient, online classes. SLU for Busy Adults gives working professionals the opportunity to earn their degree with flexible online and evening courses. In Saint Louis University's tradition of excellence, the School for Professional Studies caters to nontraditional students so they can pursue Bachelor's and Master's programs from globally-recognized SLU.
Applications for all programs are being accepted now for the Fall Term. Anyone interested can apply online at busyadults.slu. edu or call (314) 977-2330.