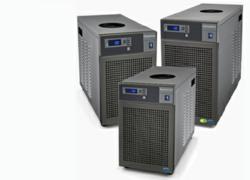 Nile, IL (PRWEB) April 27, 2013
A line of compact, powerful, and highly affordable low-temperature chillers are available from PolyScience. Designed to maximize bench space, LS-Series / LM-Series / MM-Series Chillers provide up to 1290 watts of cooling at 20°C, making them ideal for use with rotary evaporators, jacketed incubators, small reaction vessels, spectrophotometers, chromatography columns, condensers, and other devices that require robust heat removal.
Three different models of PolyScience compact chillers are available: the LS-Series, which has a working temperature range of -20° to +40°C and provides 475 watts of cooling at -10°C; the LM-Series, with a working temperature range of -10° to +30°C and a 230 watt cooling capacity at -10°C; and the MM-Series, which has a working temperature range of -5° to +50°C and provides 129 watts of cooling at -5°C. All three models control temperature with ±0.1°C stability and are equipped with a low flow rate alarm, user-adjustable high and low-temperature alarms, a top-mounted fill port with built-in fluid filter, lighted fluid level indicator, and washable rigid-frame air filter.
LS-Series Chillers measure 23.9" L x 10" W x 19" H (60.7 x 25.4 x 48.3 cm) and are available with either a centrifugal or turbine pump. LM- and MM-Series Chillers measure 20" x 10" x 17" (50.8 x 25.4 x 43.2 cm) and are available with two different centrifugal pumps.
For more information, call toll-free 1-800-229-7569 (outside the US call 847-647-0611), email sales(at)polyscience(dot)com, or fax the company at 847-647-1155. You can also visit the PolyScience website at http://www.polyscience.com.