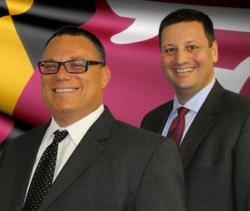 Being selected to Super Lawyers is an honor, but being able to help my clients get back on their feet after a work injury is what really makes my job so rewarding
(PRWEB) April 26, 2013
Super Lawyers magazine has once again named Bruce Plaxen and Harry Adler of Plaxen & Adler to the prestigious list of the top attorneys in Maryland. Only five percent of the lawyers in the state are honored as Super Lawyers each year. Plaxen & Adler concentrates their practice exclusively on personal injury cases, representing victims of injury from a wide variety of sources, including auto accidents, work injuries, medical negligence, slip and falls and dog bites. Plaxen & Adler also represents disabled individuals who have been denied Social Security benefits.
Harry Adler has been consistently recognized as one of the top workers' compensation attorneys in Maryland. Harry has dedicated his practice to ensuring that people who are injured in work-related accidents receive the compensation they are entitled to, and works aggressively throughout the case to protect his clients' rights. On being chosen as a Super Lawyer, Harry said "being selected to Super Lawyers is an honor, but being able to help my clients get back on their feet after a work injury is what really makes my job so rewarding."
Senior partner Bruce Plaxen has been regarded as a champion for his clients and for civil justice. He is a past president and current PAC chairman of the Maryland Association for Justice, and is often called upon to testify before the Maryland General Assembly on issues that affect the rights of injured victims. Bruce volunteers his time for these activities and is also active in the American Association for Justice, where he serves on numerous nationwide committees and is a member of the Board of Governors. In addition to working to protect the civil justice system through legislative activism, Bruce also works to change the law through the court system. This past year, Bruce argued the landmark case of Coleman v. SAC before the Court of Appeals, Maryland's highest court. The case sought to overturn Maryland's outdated law on negligence, known as contributory negligence, in favor of the fairer comparative negligence standard. For more information, see Plaxen & Adler Argues before Maryland's Highest Court to Change Maryland's Negligence Law.
"It's an honor to be selected as one of Maryland's top lawyers, and I appreciate that my efforts to help injured victims have been recognized by Super Lawyers" said Bruce Plaxen. "We are proud of the hard work that we put into each case to ensure our clients are fairly compensated."
The selection process for Super Lawyers is a rigorous process performed by the research team at Super Lawyers, a division of Thompson Reuters. The research team undertakes a multi-phase selection process that focuses on specific criteria, including a statewide survey of lawyers, an independent evaluation of candidates by the attorney-led research team, a peer review of candidates by practice area, and a thorough good-standing and disciplinary review. Thompson Reuters compiles the listing of Super Lawyers in order to assist consumers in selecting the best lawyers in a given practice field.
About Plaxen & Adler, P.A.
The Maryland personal injury law firm of Plaxen & Adler, P.A. was founded in 1985. Since its inception, Plaxen & Adler has been dedicated to representing people injured through negligence. Founding partner Bruce Plaxen quickly earned a reputation for being aggressive, creative, zealous and well prepared. The firm has obtained several landmark verdicts and quickly grew to represent claimants and plaintiffs throughout the State of Maryland. The Maryland injury attorneys at Plaxen & Adler represent clients in the following practice areas:

Automobile accidents
Medical malpractice
Workers' compensation
Social Security Disability
Products liability
Slip and falls
Animal attacks
Wrongful death
For more information about the firm, please go to http://www.plaxenadler.com or call 443-472-4864.