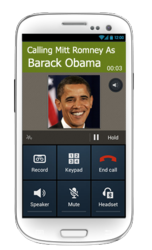 When someone needs to place a call in which they need to protect their identity, TraceBust allows them to send an untraceable fake caller ID
San Diego, CA (PRWEB) April 26, 2013
TraceBust is one of the most prominent fake caller ID services available. For a small fee, users can create a fake caller ID to be any number they want. Users can also mask or change their voice to be either a masculine or feminine caller of any age, which will fool anyone. TraceBust even allows users to record the phone call and share it with friends.
TraceBust has recently announced a new Straight-to-Voicemail feature which enables users to directly call someone's voicemail, bypassing their phone completely. The person they called won't even see that they missed a call, and the voicemail will appear from any number the user wants.
Some of the uses for Straight-to-Voicemail are leaving a voicemail for your girlfriend so you don't actually have to take up your valuable time talking to her when you could be watching the football game. Or leaving a voicemail for your parents telling them you have maxed out their credit cards while away at college. Or leaving a voicemail for your wife that you spent too much money gambling in Las Vegas and so you can put off the confrontation and maybe she'll cool off before you get home and have to face the music. Or using the service as a way to avoid talking to your boss about why you will be late.
TraceBust is an San Diego, CA based company that gives people the power to place phone calls and mask the originating caller ID. Since 2011, TraceBust has consistently changed the telecommunication industry. For more information on TraceBust, visit https://tracebust.com.