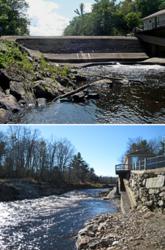 We have learned that to restore Atlantic salmon, we need to also restore the other species they co-evolved with and depend on.
-Andrew Goode
Brunswick, ME (PRWEB) April 25, 2013
The Atlantic Salmon Federation (ASF) announced it has now restored access to 15,000 acres of ponds and lakes and 300 miles of river for Maine's native sea-run fish. These achievements are part of ASF's Maine Headwaters Project that is focused on restoring critical spawning habitat to sea-run fish in tributaries identified as high priorities in State of Maine fisheries restoration plans. While the target species are Atlantic salmon and alewives, these restoration projects provide a broad range of benefits for all fish and wildlife along the river corridor.
Over the past decade, ASF has completed 13 projects that include six dam removals, five constructed fish ladders, and two road culvert replacements on tributaries in the Penobscot, Androscoggin, Pleasant and East Machias rivers. Working with its Maine Council, ASF is aggressively pursuing getting fish past these obstacles – one blockage at a time. "Our work is cut out for us," said Andrew Goode, VP of ASF's U.S. Programs. "There are close to 2,000 dams across our State, over 90% of which are located in tributary streams where most of the high quality spawning and rearing habitat for migratory fish is found."
Though ASF has been working on these projects for the past decade, they officially launched their Maine Headwaters Project in 2013 to better represent their increased focus and capacity to accelerate the pace of much needed restoration for sea-run fish that are all at 1% or less of their historic level in Maine. This year, they anticipate completing three more projects in the Penobscot, Ducktrap, and Downeast watersheds. Over the next five years, they anticipate restoring full access to another 9,000 acres of lakes and ponds and 150 miles of tributary streams.
"We have learned that to restore Atlantic salmon, we need to also restore the other species they co-evolved with and depend on", said Mr. Goode. He is referring to alewives and blueback herring that are migrating upriver when Atlantic salmon smolts are headed to sea. Predators such as cormorants key in on the river herring letting the smolts get out to sea. Rainbow smelt, American shad, and sea lampreys are important to salmon as well and will benefit from this restoration work.
ASF's approach is to work collaboratively with willing dam owners and land stewards to craft a solution that fits their needs while allowing for fisheries restoration. These projects typically involve non-hydropower dams that no longer serve their original purpose or lake outlet dams that are important to camp owners recreating on these lakes. Inclusive of public outreach, engineering, permitting and construction, these projects typically take 2-3 years to complete at a cost of $50,000 to $300,000. All the funds to date have come from a combination of private and federal grants.
Partnerships are critical to the success of ASF's Maine Headwaters Project. ASF's partners include the Maine Department of Marine Resources, U.S. Fish and Wildlife Service, ASF's Maine Council, the National Oceanic and Atmospheric Administration's Restoration Center and its various partnership programs, U.S. Department of Agriculture's Natural Resources Conservation Service, National Fish and Wildlife Foundation, Corporate Wetlands Restoration Partnership, Maine Natural Resources Conservation Program and The Nature Conservancy.
-30-
The Atlantic Salmon Federation is dedicated to the conservation, protection and restoration of wild Atlantic salmon and the ecosystems on which their well-being and survival depend. ASF has a network of seven regional councils (New Brunswick, Nova Scotia, Newfoundland and Labrador, Prince Edward Island, Quebec, Maine and Western New England). The regional councils cover the freshwater range of the Atlantic salmon in Canada and the United States.
ASF Contact:
Andrew Goode, Vice President, U.S. Programs
207-751-5124 (c)
Andy(at)asf(dot)comcastbiz(dot)net
Livia Goodbrand, Manager of Public Information
506-529-1033 (o); 506-469-1033 (c)
LGoodbrand(at)asf(dot)ca