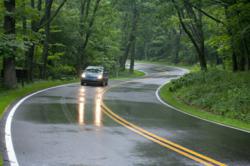 Lincoln, RI (PRWEB) April 25, 2013
Rainy weather during springtime can lead to wet and slippery roads, so Amica Insurance has some tips to help keep drivers safe.
According to the U.S. Department of Transportation Federal Highway Administration, wet pavement results in more than a million car crashes every year. More than 500,000 people are injured during those accidents, while more than 5,000 are killed.
As a result, Amica is offering the following 5 tips from The Weather Channel to help drivers safely navigate wet roads:
1. Prevent skids by driving slowly and cautiously, and be especially careful on curves. Using a light touch while steering and braking also helps.
2. If you do go into a skid, stay calm, slowly take your foot off the gas, and steer in the direction that you want the front of the car to go.
3. Cut down on hydroplaning by making sure your tires are properly inflated and maintaining good tire tread. Replace worn tires as soon as possible.
4. Do not brake or turn suddenly while hydroplaning, as it may force your car into a skid. Slowly take your foot off the gas until the car has slowed and you can feel the road again.
5. Cautious drivers lower their speeds according to the road conditions before having to use any of the defensive measures listed above.
About Amica Insurance
Amica Mutual Insurance Co., the nation's oldest mutual insurer of automobiles, was founded in 1907. The company, based in Lincoln, RI, is a national writer of automobile, homeowners, marine and personal umbrella liability insurance. Life coverage is available through Amica Life Insurance Company, a wholly owned subsidiary. Amica employs more than 3,200 people in 40 offices across the country.
Contact: Vince Burks, Corporate Communications, 50 Amica Way, Lincoln, RI 02865-1155, 800-652-6422, ext. 24563
Twitter: Amica
Facebook: Amica Mutual Insurance Co.