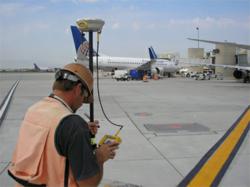 "KS Associates is on a never-ending quest to promote safety. Safety has become ingrained in our culture; it's not so much something we 'do,' rather, it's a 'way of life' here at KS Associates." - Lynn S. Miggins, P.E., President, KS Associates
Elyria, Ohio (PRWEB) April 30, 2013
Keeping safety top of mind has paid off for KS Associates, a civil engineering and surveying firm located in Elyria, Ohio. For the eighth year in a row, KS Associates has received the 100% Award from The Lorain County Chamber of Commerce Safety Council for reporting no lost-time injuries for the entire year. A lost-time injury is defined as a work-related injury or illness where the affected person is unable to complete the next shift. KS Associates also received the Special Award for working 704,627 injury-free hours for nine years, from 2003 to 2012.
KS Associates maintains a rigorous Safety Program for all employees. The firm publishes its own Health and Safety Field Manual that offers ways to mitigate job-site hazards involving working in or near confined spaces, traffic, roadways, bridges, airports, railroads and waterways. The program also addresses office-related safety issues — from how to manage emergency situations (the company has installed and has provided training on the use of an Automated External Defibrillator) to common-sense health and wellness issues, such as seasonal safety tips and reminders.
According to Lynn S. Miggins, P.E., President of KS Associates, "KS Associates is on a never-ending quest to promote safety and keep it top-of-mind for all employees, particularly those working in the field. In doing so, safety has become ingrained in our organizational culture; it's not so much something we 'do,' rather, it's a 'way of life' here at KS Associates."
About KS Associates
KS Associates is a civil engineering and land surveying firm founded in 1987. The firm provides planning, design, bidding and construction phase services related to public infrastructure projects in the areas of transportation, potable water, waste water and storm water; site development engineering services for institutional, commercial and residential uses; land surveying and mapping services; and 3D laser scanning services. KS Associates is a Disadvantaged Business Enterprise (DBE). For more information, visit: http://www.ksassociates.com.