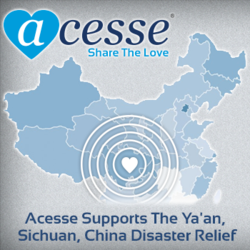 So many of our loyal customers and members are in China, we want to reach out and support them in their time of need. - Steve Renner, founder of Acesse
(PRWEB) April 26, 2013
Acesse Corporation announced today the creation of the "Acesse Love Foundation". The Acesse Love Foundation is a non-profit organization that will support worthwhile charitable causes. The company will donate a percentage of its annual profits to the foundation.
The company's Management and Board of Directors have been discussing a plan for potential charitable contributions, and after the devastating earthquake that took place in Lushan, Sichuan Province, China on April 22, 2013, the decision was made to take action now.
In the wake of the earthquake that took place in the Sichuan Province, Acesse has created a specific relief fund called "Share The Love" for victims and earthquake relief organizations in Sichuan. "So many of our loyal customers and members are in China, we want to reach out and support them in their time of need," said Steve Renner, founder of Acesse.
Currently over 200 individuals have been killed, more than 11,000 are injured, and 220,000 people have been evacuated. Acesse extends its prayers and thoughts to victims alongside its "Share The Love" fund where 100% of its proceeds will go towards aiding the tragedy in the Sichuan Province. The response has been overpowering, thousands of members have made donations that Acesse promises to match 100%.
"Our company's mission is to make a difference in peoples lives around the world," according to Renner, "the Acesse Love Foundation gives us a way to directly effect peoples' lives in a positive way."
Acesse.Com a division of the Acesse Corporation, registered under the laws of the state of Nevada, USA.